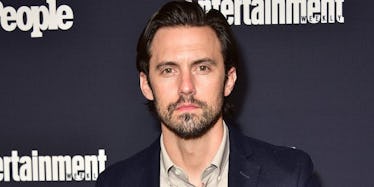 Milo Ventimiglia's Confession About The Father Of Rory's Baby Will Destroy You
Brian Killian/Getty Images
Milo Ventimiglia is LITERALLY SO RUDE.
Like, I'm completely in love with him, but he's still really f*cking rude.
How is he so rude, you might ask? WELL, ALLOW ME TO COUNT THE WAYS.
First off, he hasn't followed me back on Twitter. That's rude. Second, he literally dropped the biggest truth bomb of all truth bombs during an interview this week and then just casually started talking about something else as if he hadn't just murdered the souls of a thousand previously happy people.
If you haven't caught on by now, let me break the painful news to you: Milo Ventimiglia confirmed Jess is not the father of Rory's baby on Gilmore Girls.
Excuse me while I simultaneously sob and throw up.
Let's review: At the end of the first (and possibly only) season Gilmore Girls: A Year in the Life — I'm talking the literal final moments — Rory told Lorelai she was pregnant. That's it. Cut to black. Season's done. No other context will be provided.
Gilmore Girls fans collectively screamed when it happened, and they've been developing theories about who the father could be ever since. All of the theories involve Rory's ex-boyfriends, Dean, Jess, and Logan.
Most people were shipping Jess to be Rory's baby daddy, and people have been pressing Milo Ventimiglia to tell us his theories ever since. The only answer we've gotten out of him has been in a quote from the 2017 Golden Globes red carpet back in January.
He said, "I don't think it's any of the three guys at all. I don't know. I haven't really sat around and thought about it, wondered who it was, so I'll be as surprised as anyone else is."
But this week, Milo revealed he does know who the father is. Well, at least he knows who isn't.
During a Gotham-themed panel in London this week (Milo played The Ogre, one of the show's villains from Season 1), Milo was asked if he was returning to the Gilmore Girls revival. He responded,
It was a great time. Jess was a fun character, but I always remind people that it was 16 years ago in the past. I'm very happy that the fans and the audience got those last four episodes. They should be happy with that.
And then, THEN, HE JUST CASUALLY SAID,
Just so you know, its not Jess's kid.
GREAT. FANTASTIC. THANKS SO MUCH FOR THE INFO. HAVE A GREAT F*CKING DAY, MILO.
So there, now we know Jess is not the father of Rory's baby, and my soul is f*cking crushed. This probably means, however, that Logan is most likely the father. And there's been some low-key confirmation from Amy Sherman-Palladino — you know, the creator of the show — herself.
In an interview with TVLine, she said,
I'm not being cryptic [about who the father is]. I just want to keep the focus on what the story point is. It's not about the boy. It's about her.
Yeah, yeah, yeah, but it's at least a little about the boy. No news on whether there will be another season of Gilmore Girls: A Year in the Life, but Sherman-Palladino did confirm in the same interview that Rory's story with Logan was intended to reflect Lorelai's story with Christopher, Rory's father.
So, like, it's probably Logan's baby.
BUT IT SHOULD'VE BEEN JESS', DAMMIT.
Citations: Milo Ventimiglia Confirms Rory Gilmore's Baby Is 'Not Jess' Kid' (Glamour), 'Gilmore Girls': Milo Ventimiglia Finally Reveals Whether Jess Is The Father Of Rory's Baby (Movie Pilot)