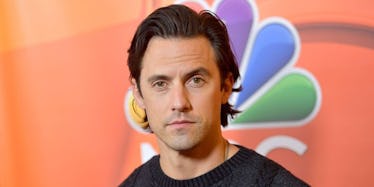 Milo Ventimiglia Might Be Single, And Fans Want Him To Date Mandy Moore
Matt Winkelmeyer/Getty Images
Happy almost Emmys, everyone! The 2017 Emmy Awards are coming up, and I fully expect them to be mostly trash that gives awards to all the wrong people. But there is one thing that this year's Emmy Awards will be good for, and that is gazing lovingly at Milo Ventimiglia's face. The 40-year-old actor has secured a nomination for Outstanding Lead Actor in a Drama for his role as Jack Pearson on NBC's This Is Us. And honestly, I think he has a pretty good shot at winning — meaning there will be ample opportunity to stare at him and ponder over the very important question: Is Milo Ventimiglia single?
Well, I have good news for all the #TeamJess fangirls out there: It looks like the answer might be yes. The 40-year-old actor is, at least, not publicly dating anyone at the moment. However, there have been some tabloid rumors that he is secretly dating a marketing coordinator named Kelly Egarian.
This may come as a disappointment to some fans who were hoping Ventimiglia, if not single, would at least be dating his This Is Us co-star, Mandy Moore. I hate to shatter dreams, but it really seems like that one's not going to happen. Unfortunately, Ventimiglia's on-screen wife has just moved in with her serious boyfriend, Taylor Goldsmith.
Still, you can't blame fans for hoping. It certainly wouldn't be the first time Ventimiglia has dated a co-star. Back in the Gilmore Girls he dated Alexis Bledel (aka Rory Gilmore!) from 2002 to 2006, and then he dated his Heroes co-star Hayden Panettiere from 2007 to 2009. However, last year Ventimiglia told E! News that he thought dating a co-star was a bad idea. He said, "Bad idea—don't shit where you eat."
So apparently, he's reformed his ways. Still, I'll be keeping a close eye on Moore and Ventimiglia's chemistry at the 2017 Emmy Awards. Those two seem pretty cozy to me...