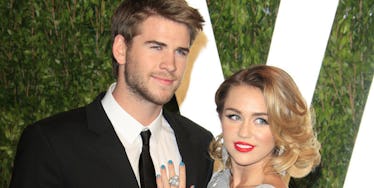 Miley Cyrus And Liam Hemsworth Singing Justin Bieber Will Give You Major Feels
Shutterstock
Miley Cyrus just posted an adorable video singing Justin Bieber's "Love Yourself." She also featured special guest, Barbie Da Beagle.
This video seems pretty normal for Miley to post on Instagram, right?
Well, what added extra cuteness to it was Liam Hemsworth casually made an appearance with his backup vocals.
I have to hand it to you Liam, you crushed those vocals like the real MVP. Miles, you got some competition, girl.
Here they are, all one big happy family singing in the car…
At the end of the video Liam teases Miley and she dropped in there,
"Babe, stop, seriously."
OH SNAP they are seriously so in looooove I literally can't even. Major feels going on rn.
We recently reported the 23-year-old singer declared her love for the ~sexy~ 26-year-old Australian actor on Instagram, saying, "So much love in one pic."
The internet, naturally, flipped the heck out.
This couple is really not about that 24/7 relationship PDA on social media life. I mean, I totally give them major props for that. But it's definitely times like these we look forward to... And vicariously live through.
Can't wait for the next Carpool Karaoke video, Miley and Liam style.