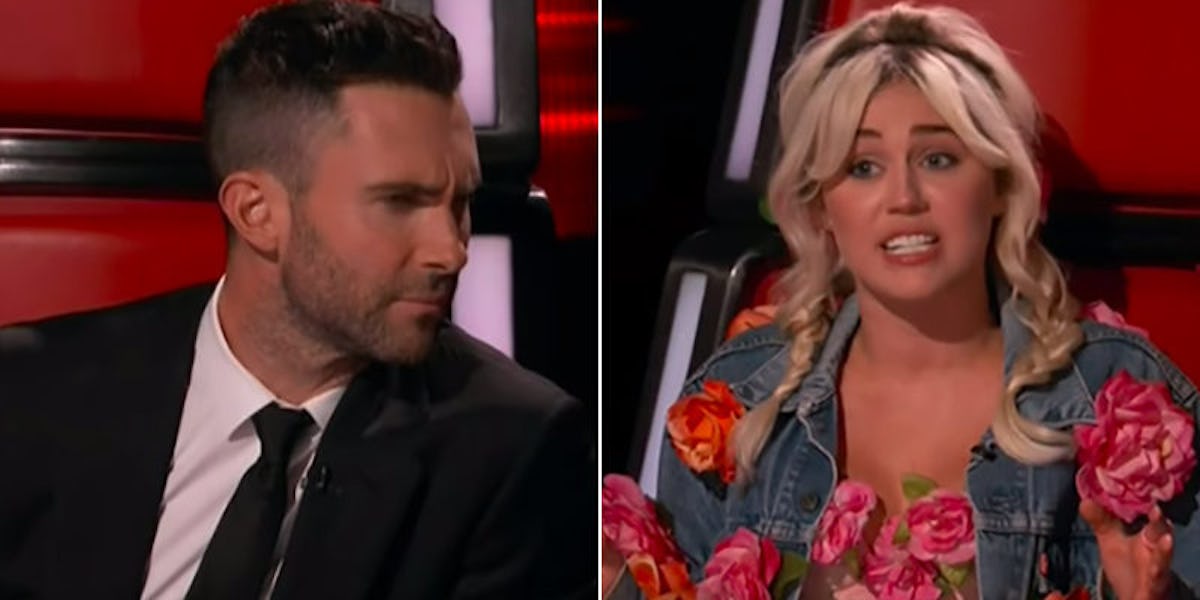 Miley Cyrus Threw Shade At Adam Levine And Behati Prinsloo On 'The Voice'
YouTube
Oh man, oh man. Things are already heating up between Miley Cyrus and Adam Levine on "The Voice."
The season kicked off strong last night with a two-hour premiere episode. There was a bunch of great talent and, of course, a lot of drama.
Hellz yeah, things got snappy AF.
Guest judges Alicia Keys and Miley Cyrus joined Adam Levine and Blake Shelton for the 11th season of the singing competition.
Right off the bat, it was clear Miley and Adam would be butting heads.
The two couldn't seem to see eye-to-eye on anything. They fought all the time and threw shade each other's way to win over the contestants.
If you ask me, it was great television. I loved every second of it.
At one point, Miley even dissed Adam and his wife Behati Prinsloo.
Yup, while Adam was trying to get a singer on his team, he told the contestant,
I just felt instantly connected and I want you and I need you and you're the greatest.
Miley interrupted the Maroon 5 singer and said,
He doesn't talk to his wife like that.
OHHH SNAP. OH SHIT. BURNNNNNN.
Sorry Behati, I guess Miley was just watching out for you?
Of course, the jokes were all in good fun. Miley did mention it feels like it's her and Alicia vs. Adam and Blake.
Bring on the battle of the sexes, then!
Tune into NBC tonight see what other drama goes down.
Citations: Miley Cyrus Disses Adam Levine (E Online)