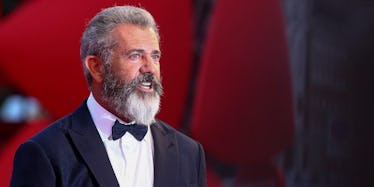 No One Wants Mel Gibson To Win An Oscar 10 Years After His Anti-Semitic Rant
REUTERS
Mel Gibson is having a tough time shaking his old reputation of being a huge piece of shit.
It's been over 10 years since Mel Gibson was one of the biggest names in Hollywood.
The legendary actor made famous for roles in "Die Hard," "Braveheart" and "What Women Want" saw his career come to a crashing halt after a booze-soaked anti-Semitic rant while being stopped for a DUI was leaked to the public.
During the infamous rant, Gibson told a Malibu police officer, whom he reportedly called "sugar tits,"
Jews are responsible for all the wars in the world.
That was in 2006, and Mel's career never recovered.
After getting out of the drunk tank he was put into Hollywood career jail, only taking on a few roles between then and now, with the most notable one (and I use that term SUPER liberally here) being the villain in "The Expendables 3."
The only way Mel has saved himself from complete obscurity has been by working behind the scenes.
Shortly after his arrest, the movie "Apocalypto," which he produced/directed, was released and followed up by a few other projects that Mel signed on as a producer for.
This is the year we could see Mel Gibson fully rehabilitate his career, though, and a lot of people are not happy about that.
Oscar nominations were announced today, and Gibson received his first nomination since "Braveheart" for his work as a director on "Hacksaw Ridge."
Twitter responded accordingly:
Keep in mind, this isn't a story of some guy who drunkenly screwed up once and spent the rest of his life paying for it.
This is a guy who in 2009, divorced his wife after 29 years of marriage, opting instead to go out with a younger model named Oksana Grigorieva, whom he had a child with.
During their time together, Oksana claimed Gibson beat her so bad she had broken teeth and a black eye. Several months after he pled guilty to a misdemeanor battery charge, Oksana released a video in which he apparently threatened to physically assault her while going on a racist rant.
In 2012, Joe Eszterhas' teen son leaked audio taken during a trip to Gibson's Costa Rica estate in which Gibson can be heard talking about Oksana, saying,
I am earning money for a filthy little... who takes advantage of me.
Maybe don't give this guy another shot at rehabbing his image?
Citations: Mel Gibsons career never recovered10 years after antiSemitic rant (Daily News)