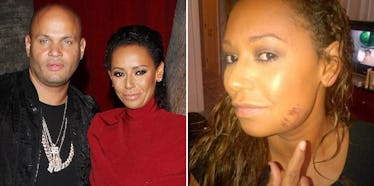 Spice Girls' Mel B Reveals Emotional Details Of Husband's Abuse In Court Docs
REX/Shutterstock/Twitter
Spice Girls' Mel B filed a restraining against her husband Stephen Belafonte on the grounds he has been subjecting her to years of domestic abuse and violence.
Belafonte has been ordered out of the house and to stay away from Mel and her three children.
The 41-year-old former Spice Girl filed for divorce from Belafonte two weeks ago, ending the couple's 10-year marriage.
A copy of the restraining order filed by Melanie Janine Brown was obtained by TMZ, in which she outlines horrifying acts of abuse committed by Belafonte throughout their entire marriage.
Mel writes in 2007 — the first year of the marriage — Belafonte choked her and slammed her to the floor after her "Dancing with the Stars" finale.
She writes that this began a pattern: Any time she had any level of success, Belafonte would "beat [her] down to let [her] know he was in charge."
Mel writes in 2012, she was going to tape an "X Factor" segment with Usher, and Belafonte punched her in the mouth with a closed fist, injuring her lip, and accused her of going to "flirt with and f*** Usher."
That same year, Mel performed at the London Olympics closing ceremony, and the next day Belafonte allegedly punched her and pushed her face down into a carpet floor, causing her face to become "scabbed over the rug burns."
She says Belafonte forced her to tweet that the injury was from tripping.
Mel writes in 2014, she was overcome by "emotional and physical exhaustion," causing her to take an entire bottle of Aspirin. When she tried to call an ambulance, Belafonte prevented her, locked her in the bedroom and told her to "die bitch."
Mel writes Belafonte forced her to participate in sex with him and other women at the same time, and secretly recorded the encounters. She says he threatened to release the tapes when she tried to resist.
She writes she tried to leave Belafonte multiple times, but he "threatened [her] with violence and threatened to destroy [her] life in every possible way... destroy [her] career and take [her] kids from [her]."
Mel has one daughter with Belafonte, 5-year-old Madison Brown Belafonte, and two older daughters from before the marriage.
She also says Belafonte keeps a gun at home.
Rumors of Belafonte's abuse have surfaced in the past. After the "X Factor" finale, abuse speculation rose after Mel was rushed to the hospital.
Mel eventually denied those rumors on Instagram, writing, "For the record my hubby never would lay a hand on me sorry took so long but any response fuels rumors."
However, it seems likely she may have been coerced into doing so by Belafonte.
Belafonte has apparently now left Mel's home in Hollywood Hills on a judge's orders as of Monday.
Citations: MEL B CLAIMS HUSBAND BEAT, SEXUALLY EXPLOITED HER (TMZ)