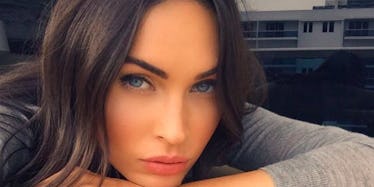 Megan Fox Has 3 Kids And Looks Better In Lacy Lingerie Than You Ever Will
Instagram
Motherhood is many years away for me, but I can't help but daydream about those days to come...
Uh, I'm not thinking about my future children who, more likely than not, will turn out just as obnoxious as I am, I'm talking about the ease.
Have you ever worn mom jeans? The 9-inch zipper that goes all the way up past your belly button doesn't scream "fashion faux pas" to me. It screams "I'm comfy! And fuck off, leave me alone."
And as a person who has had long, thick hair all of her life, I cannot wait to chop that into a "let me speak to your manager" cut.
But Megan Fox is ruining all of that!
Not only has she given birth to three children, but she still looks better than me in lingerie.
ME! A person who hasn't worked out since high school and spends most of her time sitting at a computer! I couldn't believe it either, but the proof is in the pudding (of which I eat several containers a day).
In a new ad for Federick's of Hollywood, Megan Fox showcased some of the upcoming snaps from the spring campaign.
She commented on her Instagram post,
When you answer the door for the delivery like...
Now, I have a friend who delivers for Postmates, so I asked her what she would do if she arrived to Megan Fox's household for a delivery...
Fox is an ambassador, creative collaborator and co-owner of the lingerie brand. She said,
I am so excited to reveal my first Frederick's of Hollywood campaign. Shooting in beautiful lingerie alongside Ellen von Unwerth was such a great opportunity. I cannot wait for fans to see the new collection.
Honestly, I ain't even mad at Fox anymore. You look amazing and if I had your body, I would dare anyone try to tell me to NOT wear lingerie constantly.
Citations: Cheeky Fox! Megan highlights her derriere in latex and spike heels for Frederick's Of Hollywood lingerie ad (DailyMail.com)