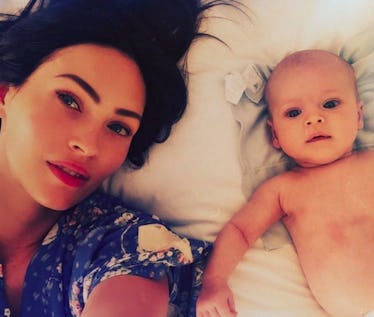 Megan Fox Posted The First Instagram Of Her Adorable 2-Month-Old Baby Boy
Instagram
Megan Fox has shared the first selfie of her third son Journey!
The 30-year-old actress gave birth to this bundle of joy back in August and shared this adorable photo together on Instagram of her lying side-by-side with her 2-month-old.
Just look at this adorable baby with his star of a mom! SERIOUSLY... LOOK AT THIS BABY.
Journey was born on August 4, but you couldn't tell by looking at how fit his mom looks now.
Seriously? How is that fair? Sure, I don't exercise and yeah, I eat terribly, but why can't I look at good as Megan Fox two months after giving birth?
Some of us were just dealt an unlucky hand, I suppose.
The actress and her husband, actor Brian Austin Green, have two older sons. Noah is 4 and Bodhi is 2 years old.
Brian Austin Green, 43, also has a 14-year-old son with his "90210" co-star Vanessa Marcil.
Green and Fox were separated briefly in August of 2015, and the actress filed for a divorce. In April, she revealed she was pregnant.
Many rumors spread about who was the father of her third child. She even took to Instagram to poke fun at the gossip, as she was rumored to be sleeping with almost all of her co-stars.
She simply wrote in the caption "#notthefather."
However, it was Green's child, and the couple called off the divorce and reconciled.
Megan Fox and Brian Austin Green first met while Megan was playing the youngest daughter on the sitcom "Hope & Faith." Green was a guest star on the show.
She was 18 at the time, and Brian was 30, which isn't weird at all...
The couple became engaged in 2006, broke up in 2009, but then were married the next year in June of 2010.
Fox told Chelsea Handler,
I knew I was always going to be a mother; I felt like that was always a big part of my path. But I never knew I was going to have three in such rapid succession.
Citations: His first selfie! Megan Fox looks stunning as she snuggles up with two-month-old son Journey (Daily Mail)