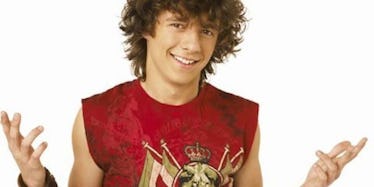 Former 'Zoey 101' Actor Saves 4-Month-Old Baby From Car Crash In Scary Video
Nickelodeon
Logan Reese was always the worst dude on "Zoey 101," but the actor who played him just pulled off a pretty heroic feat. Actor Matthew Underwood came upon a car crash last week and rescued an infant from the back seat.
According to TMZ, Underwood came upon a car crashed into a tree in Port St. Lucie, Florida, where he now lives, and went over to inspect what happened.
Underwood found a man and woman passed out in the front seats surrounded by drug paraphernalia, and a 4-month-old baby in an unsecured car seat in the back. The woman behind the wheel had a syringe of heroin sticking in her arm.
Before the police arrived, Underwood recorded a video of the scene.
The man and woman were identified as the child's parents and were arrested for drug possession and child neglect, and the baby was given to a family member to look after. The woman said it was her first time trying heroin, and the cops found another syringe next to the man.
It's nice to hear that Underwood is on the right side of the law nowadays, after having been arrested a couple times back in 2012. Back then, Underwood had been booked for marijuana possession and contributing to the delinquency of a minor, since he was with a 17-year-old girl.
Now it appears Underwood is doing much better. He pretty much gave up acting after "Zoey 101" ended, and now lives full-time in Port St. Lucie, Florida. According to a quick scroll through his Instagram, he spends his days fishing and decorating his pad. It also appears he still does some modeling gigs and co-owns a local hookah lounge.
But no matter what Matthew Underwood does, Nickelodeon fans will always know him as the arrogant, but sometimes surprisingly caring boarding school prepster, Logan Reese.