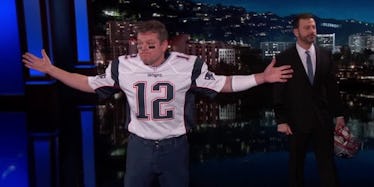 Matt Damon Keeps The Tradition Alive, Sneaks Onto 'Kimmel' Dressed As Tom Brady
ABC
It's been eight years since Sarah Silverman revealed she was fucking Matt Damon on her ex's show, but Jimmy Kimmel is still keeping the feud alive.
On Monday, the day after the Patriots made Super Bowl history with their comeback win, a very special guest stopped by "Jimmy Kimmel Live!"
Or, rather, it was SUPPOSED to be a very special guest. It was supposed to be Patriots' quarterback Tom Brady.
After a lengthy introduction for the football star that had the crowd all hyped up, out came... Matt Damon in a jersey and helmet.
At first the crowd seemed to think it really was Tom Brady taking the stage.
He had the signature Tom Brady moves, after all.
Jimmy went with it for a moment, too.
But eventually he insisted "Brady" remove his so-called lucky helmet.
And wouldn't you know it: It was fucking Matt Damon under there.
A Matt Damon who was very pleased with himself for managing to sneak onto Kimmel's show.
He shouted,
I did it! I did it! If I'm not on the show right now, where am I? I'm on the show! Touchdown! I won the Super Bowl, and I won your stupid show!
(Though Kimmel insisted it didn't count since Matt didn't sit on the couch.)
Kimmel tried to have security remove him, but Guillermo Rodriguez wanted an autograph first.
And then Matt was eventually escorted off the stage.
If you're unfamiliar with the great Matt Damon vs. Jimmy Kimmel feud, here are the basics.
For years Kimmel ended his show with the running joke: "Apologies to Matt Damon, we ran out of time."
Then Kimmel's ex Sarah Silverman came on the show in 2008 with some news: She'd been fucking Matt Damon.
Kimmel fired back with some news of his own: He'd been fucking Ben Affleck.
And there's been a whole lot of back and forth since then.
At least something has survived the Obama presidency.
Citations: Matt Damon Dresses Up Like Tom Brady to Sneak onto 'Jimmy Kimmel Live' and Keeps the Feud Alive (Entertainment Tonight)