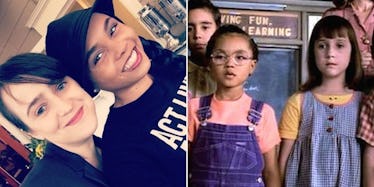 This 'Matilda' Reunion Selfie Will Have Your Inner Child Rejoicing (Photo)
"Matilda" is a movie many of us 90s kids remember fondly.
It's basically the adorable kids' version of an "X-Men" origin story.
Well, it's been 19 years since the film was released and now, two of its stars had a reunion of sorts.
Mara Wilson, who played Matilda, and Kiami Davael, who played Lavender, recently took a cute selfie together.
They were best friends in the film, and it seems like they're pretty close in real life.
Mara is now 27 years old and Kiami is 28. It's pretty wonderful to see these two back together again.
Check out the photo of this dynamic duo.
In the words of Lavender, "Wow."
Citations: Mara Wilson and Kiami Davael snap reunion selfie years after films release (Daily Mail)