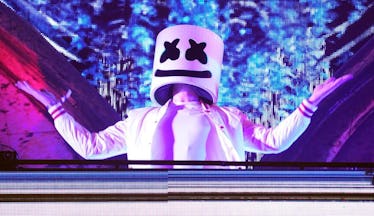 Bella Thorne Brought Marshmello On Stage At The Teen Choice Awards & We're So Confused
Steven Lawton/Getty Images
It was a crazy Sunday night, America. Loads went down on TV tonight, but when Bella Thorne brought Marshemello on stage at The Teen Choice Awards, she had all of us raising our hands. We had so many questions: Who is he? Why is this happening? What does Marshmello look like in real life?
Bella stepped out at the very end of the show debuting a totally new look than what she went in with, and brought the mute Marshmello man on stage with her. During her presentation, she did some sort of bit where she pretended that Marshmello said some nasty things about her outfit, and he did a lot of head shaking. Meanwhile, I was just like, "What am I looking at here?"
Apparently, he was on the red carpet earlier in the night, but beyond that, I really can't find much about the mystery man.
Turns out, that's the whole point. Allegedly, he is a DJ who strives to remain anonymous. Ya know, like Banksy or Batman. Twitter was just as confused as I am, which is lucky, because if there's one place we can all get to the bottom of something, it's on the internet.
One person offered the following explanation:
Marshmello wears a custom helmet for public appearances. His identity is unknown. It has been frequently suggested that Marshmello is American DJ Chris Comstock, also known as Dotcom, who style is similar to Marshmello's. Skrillex also referred to Marshmello as "Chris" in an interview. In addition, both are managed by Moe Shalizi and allegedly have the same tattoo and birthday.
Ohhh, well that solves it!
Just kidding. I still don't get what just happened. But, just like that time Bella wore a purple bikini top as a shirt, some things in life just aren't meant to be understood.
BTW, according to reports, Marshmello is rumored to be Chris Comstock, aka Dotcom. Fans have been investigating and finding clues to figure out Marshmello's true identity on Twitter.
Welp, that explains it, then. We hope Marshmello has a great time tonight at the after-party he goes to and stays away from anything flammable.