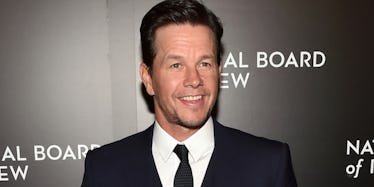 Mark Wahlberg's Wife Forced Him To Watch 'Fifty Shades Darker' Like All Our GFs
REX/Shutterstock
We are all Mark Wahlberg.
Well, not quite, but most of us can probably relate to the fact his wife forced him to watch "Fifty Shades Darker." The 45-year-old star spoke to Entertainment Tonight at Hasbro's Annual Toy Fair in NYC on Monday.
The "Transformers: The Last Knight" actor opened up about his Valentine's Day date night, saying,
My wife wanted to see ['Fifty Shades Darker'].
That statement alone just highlights the fact he did not approve... Wahlberg added,
Not my choice.
It's all good, Mark. By now, most of us have been dragged out to stare at "Fifty Shades Darker." Some of us are even pretending the movie didn't change our sex lives for the better!
I mean, there are benefits to watching the James Foley-directed film with your significant other. I'll let you use your own imagination, though. Let's just say it gets the creativity flowing on both sides...
Mark Wahlberg went on to say,
I actually took a picture of the marquee behind me. You know, so I can get some brownie points for being a good husband... For sitting through a movie like that.
The 45-year-old actor shared the photo on Instagram. The caption reads,
I never get to pick the movies anymore. Happy Valentine's Day!
Ladies and gents, this is what earning serious brownie points looks like.
If you were one of the many dudes dragged out to see "Fifty Shades Darker," you are not alone, my friend. Mark Wahlberg certainly feels your pain (or pleasure).
During the interview, Wahlberg went on to talk about the upcoming fifth "Transformers" film in which he plays the role of Cade Yeager.
It's a very different journey. A lot of stuff about the origin of Transformers and their history.
Speaking of "brownie points," Mark says working on the "Transformers" film has actually made him appear cooler in the eyes of his kids.
When I [bring toys home] I'm a cool dad. Then when I tell them that I used to be a rapper or something, it mortifies them.
Similar to giving into your wife's wish to watch "Fifty Shades Darker" on V-Day, landing a role in a "Transformers" film was a strategic move on Wahlberg's part!
You can catch "Transformers: The Last Knight" in theaters on June 23.
Citations: 'Transformers' Star Mark Wahlberg Talks 'Fifty Shades Darker' Valentine's Day Date With His Wife (Entertainment Tonight)