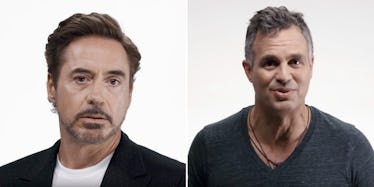 Mark Ruffalo Will Get Naked If You Vote This Year, Says Robert Downey Jr.
Youtube
If "The Avengers" are telling you that you need to vote this year, preferably not for Trump, you probably need to vote this year, preferably not for Trump.
Especially if Mark Ruffalo's naked body is hanging on the line.
Writer/director Joss Whedon has finally returned to the internet to bring us all this very Whedon-y PSA to register and vote this November.
The video features all of Whedon's famous (some not as famous, but still pretty famous) buddies, including Robert Downey Jr, Scarlett Johansson, Mark Ruffalo, Keegan-Michael Key, Julianne Moore, Don Cheadle, James Franco, Neil Patrick Harris and more.
It's part of Whedon's new digital production company called Save The Day.
The idea is to encourage everyone to go vote on Election Day, and not for "a racist, abusive coward who could permanently damage the fabric of our society," as Don Cheadle puts it.
In other words, please vote against Trump so we don't all die next year.
The three-minute video, titled "IMPORTANT," has all the tongue-and-cheek self awareness that Whedon fans have missed so much.
RDJ stresses at least three times how famous and successful he is. They also get a non-famous woman to read a few lines in order to "drive the message home" with her "unpolished sincerity."
But the best part of the video comes at the end, for those who watch the whole thing.
The celebs promise if we get out and vote against Trump, then Mark Ruffalo will reward us handsomely.
Seriously, there will be a nude scene.
Like a real, honest to god, nude scene.
Not kidding. It will be the whole shebang.
Shhhh, Mark, don't question it.
Just give us this.
This is the only way to save America.
You can register to vote and check out Save The Day at savetheday.vote.
And don't forget to vote on November 8!
Citations: Joss Whedon returns with star-studded, anti-Trump video to get out the vote (Entertainment Weekly)