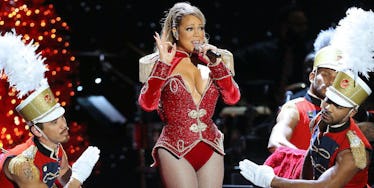 Mariah Carey Naked By A Christmas Tree Is Hot Enough To Roast Your Chestnuts
REX/Shutterstock
Christmas came early for Mariah Carey's Instagram followers!
On Monday, the 46-year-old singer posted a sexy photo of herself standing basically naked next to a Christmas tree.
When I say "naked," I mean wearing lingerie, black boots and a flannel top.
Oh, be quiet, haters. Mariah Carey is naked enough to make your balls bells jingle.
One look at that hot, sexy bod will roast your chestnuts. Coal isn't the only lump you'll get this year.
Ha ha ha, somebody punch me in the face.
Before you ex out of this page and write mean things about me on Facebook, check out the sexy pic I've been talkin' about!
OooOoOooO, ahhhHHHhhHHHHHH. SEXXXXXXXX-EEEEEEEEEEEE.
Mimi captioned the photo,
Getting into the Christmas spirit with this exquisite tree in a beautiful home for our family!
She should have captioned the photo,
When you don't put presents under the Christmas tree because you're the only present the world needs.
AM I RIGHT OR AM I RIGHT?
Mariah Carey is known for posting scandalous images on social media. Let me take you back to September when the queen uploaded a pic of her taking a bubble bath.
This photo means everything to me.
People got upset with her for showing off her bod, even though the girl was just being hygienic.
Mariah gives zero fucks, though. She then posted some sexy Little Red Riding Hood pics of her wearing a red bra and cape.
I don't know if she was going for a fairytale theme, but that's what I took from it.
GET IT, GIRL. GO SAVE GRANDMA FROM THAT WOLF.
Mariah Carey is living her truth and doesn't care what you or your loud mouth friends have to say about it. That's admirable as fuck.
Thank you, Mimi, for being our hero.
Merry Christmas, everyone!
Love,
Me and Mariah Carey's boobies