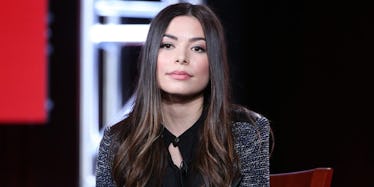 A Man Was Found Dead And Engulfed In Flames Near Miranda Cosgrove's LA Home
REX/ Shutterstock
Friday night was anything but glamorous for the celebrities living on Outpost Drive of Hollywood Hills in Los Angeles, California.
It's been reported police were called to the star-studded block around 11 pm on December 16 after shots were heard being fired outside.
Apparently, a deceased man was found engulfed in flames just a few houses away from where "iCarly" actress, Miranda Cosgrove, lives.
Sources told TMZ that the blaze which the unknown male perished in was contained by the Los Angeles Fire Department after they arrived at the scene.
When the fire was put out, police allegedly found a gun and ammo next to the fatally burnt body.
While cops are still undergoing investigation about what caused the fiery death, TMZ was told the man appears to have committed suicide close to the actress' Hollywood home.
The 23-year-old iCarly actress isn't the only celebrity on the street where the man perished, though.
Apparently, British actor, Charlie Hunnam, walked by the scene of the incident while chaos plagued the celebrity-ridden road.
Hunnam's known mainly for his role as Jax Teller in FX TV series "Sons of Anarchy."
Naturally, he felt the need to check out what all the commotion was about on his and Miranda's home turf.
Based off the photos provided by TMZ of the crime scene, the road was filled with cops, firefighters, an ambulance, and caution tape.
In fact, I'm surprised Cosgrove wasn't curious about the chaos happening outside her LA home.
Then again, she might've been consumed with schoolwork. About two weeks ago, the 23-year-old actress posted a selfie on Instagram with the caption "Finals Week Is Coming."
Although the actress' definite whereabouts on Friday night haven't been confirmed, I'm sure she's aware of the man who was found burnt to death outside her house.
No other information has been released about the victim, but police are currently looking further into details about his supposed suicide.