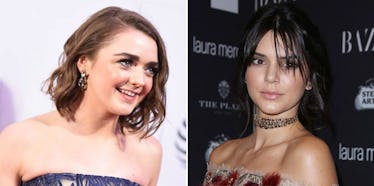 Maisie Williams Channeled Her Inner Kendall Jenner On The Emmys Red Carpet
REX/Shutterstock
Dear Maisie Williams, I am very sorry to inform you 99 percent of the conversation about your attendance at the 2016 Emmy Awards will be based on your appearance.
19-year-old "Game of Thrones" actress Maisie Williams is up for her very first Emmy Award this year for Outstanding Supporting Actress in a Drama Series.
Maisie has been killing it on the show for six years now as the badass Arya Stark.
While she's no stranger to the Emmys, this is the first time she's had the chance to take one home for herself.
But again, unfortunately, Maisie's exemplary acting isn't going to be the takeaway of the night.
So let's focus on her appearance instead, shall we?
Here's what the future ruler of Westeros wore on the red carpet Sunday night:
That bangs-n-bun combo is so different from how Maisie usually wears her hair, I almost didn't recognize her, to be honest.
But does that straight, sleek, slightly messy look remind you guys of anyone?
Yep, it looks like little Arya has been flipping through the latest issue of Vogue and taken inspiration from none other than 20-year-old model Kendall Jenner.
I would ask who wore it better, but I really don't think it's fair to compare anyone to Kendall Jenner.
Plus, I think Maisie has other things to worry about tonight — like taking home an Emmy at the mere age of 19, like a boss.