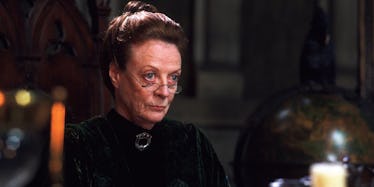 Professor McGonagall Beat Half The 'Game Of Thrones' Cast At The Emmys
Warner Bros.
Ten points for Gryffindor!
The Emmy Awards Show aired tonight, and "Game of Thrones" obviously had a butt-load of nominations -- 23 to be exact.
All those nominations meant multiple categories featured more than one "Throner"-nominee.
AKA: Major drama in Westeros.
One of those categories was the award for Outstanding Supporting Actress in a Drama Series, which featured nominations for Lena Headey, Emilia Clarke and Maisie Williams, along with Maura Tierney ("The Affair"), Constance Zimmer ("UnReal") and Dame Maggie Smith ("Downton Abbey").
Let's just say the award didn't go to anyone George RR Martin made up.
HOW YOU LIKE DEM APPLES, MOTHER OF DRAGONS?!?!
DAME MAGGIE SMITH FTW! TAKING DOWN HALF THE WOMEN FROM KING'S LANDING AND WHATEVER THOSE OTHER TWO SHOWS ARE ABOUT! (JK, "UnReal" is amazing and if Constance Zimmer wanted to adopt me, I'd be ok with that. I don't know what "The Affair" is, though.)
Yerp, 3 Game of Thrones actresses lost to no less than Maggie Smith. Still proud of the noms for Maisie, Emilia, & Lena. #emmys — polix klein robles (@poLixkLein) September 19, 2016
The funniest part is for some reason Maggie Smith Just doesn't go to the Emmys. I don't know why, it's just not her thing.
Jimmy Kimmel even joked about it in the monologue and then later one when she won the award but wasn't there to accept.
We love you, Mags.