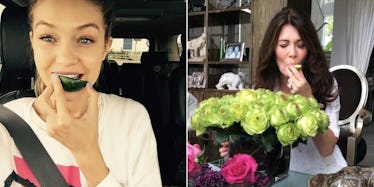 Celebrities Are Biting Into Limes To Raise Awareness For Lyme Disease (Photos)
Instagram/Twitter
I'm sure you all remember last year's Ice Bucket Challenge.
Well, now there's a new social media craze aimed at raising funds and awareness for another chronic disease.
It's the Lyme Disease Challenge, and in order to participate, one must bite into a lime.
The challenge gained traction after "The Real Housewives of Beverly Hills" star Yolanda Foster shared a photo of herself and her husband biting into the citrus fruit on Instagram.
Since then, other "Housewives" castmates and celebrities have taken part in the challenge.
As per the challenge, participants are asked to donate $10 to the International Lyme and Associated Diseases Society.
And those who choose not to "Take a Bite Out of Lyme" are asked to donate $100.
Here are some of the celebrities who have already participated in the Lyme Disease Challenge:
Yolanda and David Foster
Lisa Vanderpump
Find a cure #lymediseasechallenge pic.twitter.com/nlw0jFk6Th — Lisa Vanderpump (@LisaVanderpump) April 21, 2015
Lisa Vanderpump's dog
Bring awareness...#lymediseasechallenge @YolandaFoster find a cure. pic.twitter.com/FaVs390N2m — Lisa Vanderpump (@LisaVanderpump) April 21, 2015
Heather Thomson
@joyroth33 @Jeminette @LisaVanderpump #holla #biteback #lymediseasechallenge pic.twitter.com/8ku1e1Szlg — Heather Thomson (@iamHeatherT) April 22, 2015
Gigi Hadid
#LYMEDISEASECHALLENGE for Lyme warriors like my mamma @ yolandahfoster The best cure is prevention: be cautious in pic.twitter.com/ip0ieCiwm4 — Gigi Hadid (@hadid__gigi) April 22, 2015
Kyle Richards
Lisa Rinna
I now challenge all of our #RHOBH fans to take the #LymeDiseaseChallenge & #TakeABiteOutOfLyme for @YolandaHFoster! pic.twitter.com/yUcGl6lTGU — lisa rinna (@lisarinna) April 21, 2015
Tiki Barber
William Shatner
Lyme Disease sucks! I challenge @TraceAdkins @joshgroban & @kennychesney to take the #lymediseasechallenge! pic.twitter.com/Vn6w8IYUPs — William Shatner (@WilliamShatner) March 26, 2015
Ad-Rock from Beastie Boys
Tom Bergeron
Look who I got to take the#lymediseasechallenge love that face @Tom_Bergeron pic.twitter.com/WACZ9Egh9u — Erin Andrews (@ErinAndrews) March 24, 2015
Erin Andrews
Took the #lymediseasechallenge I now challenge @jarretstoll @Tom_Bergeron @Willie_Mitch33 pic.twitter.com/rf6usfff7h — Erin Andrews (@ErinAndrews) March 22, 2015
Citations: Real Housewives stars celebs biting into limes for Lyme Disease Challenge (NY Daily News)