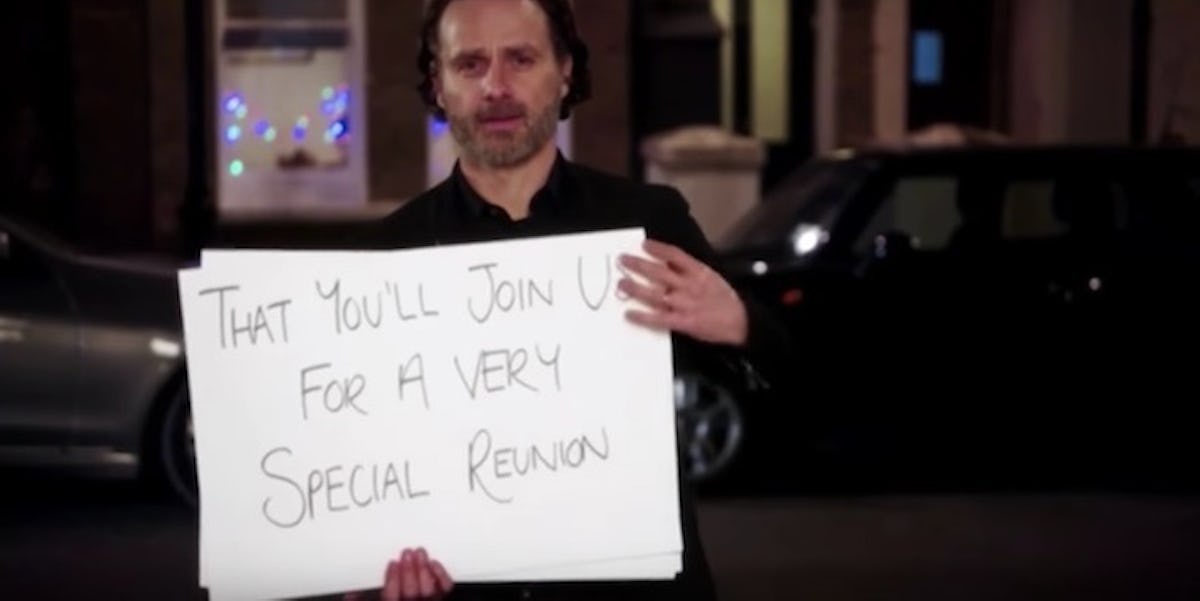 The First 'Love Actually' Reunion Trailer Dropped And It Will Make You Bawl
BBC
If you're a hopeless romantic patiently awaiting the upcoming "Love Actually" reunion, grab a box of tissues and take a seat.
The trailer for the upcoming sequel is finally here, and it's the most nostalgic clip we've ever seen. (I'm telling you, GRAB YOUR TISSUES ASAP.)
Before taking an emotional trip down memory lane, allow me to jog your memory about a key moment in the classic Christmastime movie that inspired the trailer.
*hint, hint, CUE CARDS, hint, hint*
In the teaser for the upcoming "Love Actually" reunion released by BBC on Tuesday, Andrew Lincoln is back as Mark -- and you better believe he's carrying his infamous cue cards.
However, this time is different because the cards he's carrying in the trailer give movie fans more information about the reunion's release. (He still looks adorable, though.)
Based off the cue cards, the trailer was released to remind us about Red Nose Day, which will take place in the UK on March 24. It's a day of charitable giving and is the inspiration for the short film's release.
The cue cards in the trailer read,
Hello, I just wanted to ask without hope or agenda (and just because it's nearly Red Nose Day) that you'll join us for a very special reunion called Red Nose Day Actually on Friday 24th March BBC One… Actually.
Now watch this adorable trailer and try not to sob.
Andrew Lincoln's tugging at our heart strings once again. SO. FREAKIN'. CUTE.
The upcoming sequel will include your favorite cast members like Rowan Atkinson, Marcus Brigstocke, Thomas Brodie-Sangster, Colin Firth, Hugh Grant, Keira Knightley, Martine McCutcheon, Lúcia Moniz, Liam Neeson, Bill Nighy and Olivia Olson.
However, Emma Thompson will not be included in the sequel out of respect for Alan Rickman's death.
During a recent interview with Press Association, the actress said,
Richard wrote to me and said, 'Darling, we can't write anything for you because of Alan Rickman,' and I said, 'No, of course, it would be sad, too sad. It's too soon. It's absolutely right because it's supposed to be for Comic Relief but there isn't much comic relief in the loss of our dear friend, really, just over a year ago.
Based off the trailer for the reunion, it's definitely going to be an emotional one.
The reunion will be aired in the UK on March 24 and in the US on May 25.
Citations: The First Official Love Actually Reunion Trailer Is Here and So Are Andrew Lincoln's Beloved Cue Cards (E! Online)