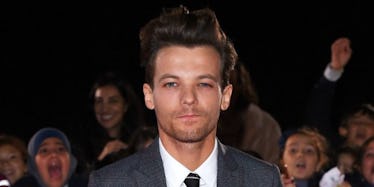 Insane Video Shows Louis Tomlinson Fighting Photographer Before Being Arrested
REX/Shutterstock
Friday night, One Direction star Louis Tomlinson was reportedly arrested at LAX Airport for getting into a physical altercation with a paparazzo.
At the time, we knew Tomlinson had been arrested around 11:30 pm.
TMZ reported the 25-year-old was defending himself and his girlfriend, Eleanor Calder, during the melee.
This is the arrest report from the event.
Now, though, the insane video footage of Louis Tomlinson's fight with a photographer at LAX has surfaced, and holy hell, things got out of hand very quickly!
As you're about to see, it appears the paparazzo got very close to Tomlinson's face with his camera, which prompted the singer to get physical with him.
Eventually, the photographer hit his head when he fell to the floor, but Tomlinson was already on the move to try and help his girlfriend deal with fans who were getting physical with her.
Insane, right?
According to MailOnline, as a result of the above altercation, Tomlinson was booked for simple battery.
Physical violence is rarely the answer, but as you can see, it really does look like Louis Tomlinson had very few other options.
At the beginning of the above video, you can see paparazzo Karl Larssen get right in Eleanor Calder's face, which obviously set the One Direction singer off.
According to MailOnline, it appears the Doncaster, South Yorkshire native tripped during the fight, which led to the photographer wiping out and taking a nasty spill on the floor.
Speaking about the altercation, photographer Karl Larssen reportedly said,
He was actually smaller than me, but he got my leg and then I was off balance. He lunged for the camera then he lifted up my leg and then he hit me and I hit my own head.
During the hectic scene, you can hear Tomlinson say,
What the hell is happening? Can we get some help?
After the photographer went down, the 25-year-old ran over to his girlfriend to try and help her deal with a few very aggressive fans who were reportedly trying to snap pictures of her.
Eventually, LAX Airport security intervened and allowed Louis Tomlinson and Eleanor Calder to regain their composure and escape the chaos.
Tomlinson is reportedly due to appear in court on March 29 in Los Angeles as a result of his arrest.
Citations: Wrong Direction! Astonishing footage shows Louis Tomlinson 'wrestling photographer to the ground and manhandling female fan who was fighting his girlfriend' moments before cops arrested him (MailOnline)