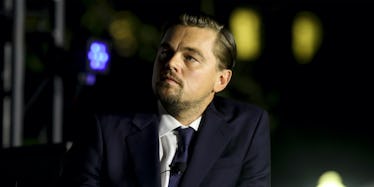 Leonardo DiCaprio Said He's Going On Musk's Trip To Mars, So Pack Your Bags
REX/Shutterstock
Sorry, Matt Damon, but we've officially found a new Martian.
While at the South by South Lawn festival, Leonardo DiCaprio had a chance to sit down with President Obama and scientist Dr. Katharine Hayhoe to discuss climate change before Leo premiered his documentary, "Before the Flood."
At one point the topic turned to the newly-announced SpaceX mission to Mars that sounds straight out of a Ray Bradbury short story.
Hayhoe said that the only way to combat climate change is forging a real human connection to the issue,
The reality of it is, if you're a human living on this planet — which most of us are, yeah? As long as we haven't signed up for the trip to Mars. I don't want to know if anyone has, I think you're crazy.
Of course, if anyone has a spot on the new proposed to luxury cruise... uh, I mean, trip to Mars, it's Leonardo f*cking DiCaprio. He joked,
I did.
Can you see Leo screaming "I'm king of the world! Woo!" into a space helmet? Because I cannot think of anything else right about now.
Plus, how many bears are on Mars? Zero.
This is when Barack decided to chime in with a major diss aimed at the Academy-award winning actor, saying,
I think you'll acknowledge he's crazy.
Let the record show that the leader of the free world thinks Leo is as crazy as his character was in "Shutter Island."
Yeah, I'm 99.9999 percent sure that Leo is joking around, but there is that 0.0001 percent chance that he's serious.
And I'm banking on that small chance right now, as I'm about to send letters to my loved ones letting them know I'll be embarking on an adventure with Leo to the red planet.
What could backfire from this interpretation of his two-word response? Nothing that I can think of!
Citations: Leonardo DiCaprio Says He's Signed Up for Elon Musk's Trip (Inverse)