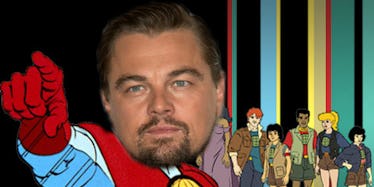 Leonardo DiCaprio Is Turning 'Captain Planet' Into A Movie, So He's Our Hero
REX/Shutterstock/TBS
Earth! Fire! Wind! Water! Heart! Leo?!
If anyone is "gonna bring pollution down to zero," it's environmentalist extraordinaire Leonardo DiCaprio. Even though he killed that bear in "The Revenant," he probably felt really bad about it.
"I'M SORRY, MR. BEAR. CAN I BUY YOU A VAPE?"
Well, now the actor, who is currently promoting the global warming documentary "Before the Flood," has decided to make a movie out of "Captain Planet."
I can safely refer to the time prior to learning about this "Captain Planet" film as "Before the Flood," because as soon as I heard about this movie, my eyes flooded with streams of sweet, sweet tears.
I MEAN, COME ON. THIS IS SERIOUS NOSTALGIA OVERLOAD.
Let me put it this way. When I was a little kid, all I wanted to be was a Planeteer. Well, maybe not Heart. Heart was kind of lame, right?
But I digress.
Appian Way, Leo's very own production company, has decided to green light the project, with "Scream Queens" actor Glen Powell being attached to co-write the script.
However, it's not clear whether or not Glen will play the blue superhero, but fingers very crossed.
But if it isn't Glen, then Leo... can you play the part? Like, you already have an Oscar, but if you make this film, you will have the allegiance of every Millennial ever.
Also, I sincerely hope that Captain Planet doesn't end up look anything like this guy...
Yeah, seriously... What happened here?
How did Apocalypse end up looking like this?
Yikes.
I think it's pretty apropos that Leo has decided to produce this film in 2016 because we need Captain Planet IRL more than ever.
If this green-haired captain was able to get 5-year-old me to stop littering, imagine what Leo's Captain Planet can get us all to do to help preserve our world for generations to come.
Citations: Leonardo DiCaprio Is Making a 'Captain Planet' Movie (Complex)