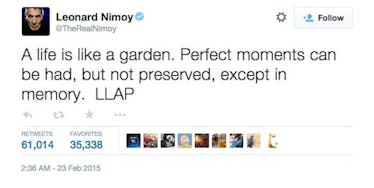 Live Long And Prosper: Leonard Nimoy's Final Tweet Reminds Us Life Is Beautiful
Twitter
Leonard Nimoy died this morning at the age of 83. Nimoy was famous for his portrayal of the character Mr. Spock on the "Star Trek" television show from the late 1960s.
Although the show only ran for three seasons, Spock became iconic and Nimoy would appear as the character at conventions and conferences and in a number of films.
In light of Nimoy's death, his final tweet, from Monday, has taken on special significance. It's a good reminder to us all about the impermanence, fragility and beauty of life.
A life is like a garden. Perfect moments can be had, but not preserved, except in memory. LLAP — Leonard Nimoy (@TheRealNimoy) February 23, 2015
"LLAP" stands for "live long and prosper," which was Spock's famous catchphrase. And live long and prosper is exactly what Leonard Nimoy did.
Citations: Leonard Nimoys Final Tweet Will Make You Cry (Time)