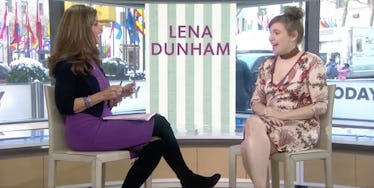 Lena Dunham Said 'Penis' On Live TV And Non-Millennials Had No Idea What To Say
Twitter
Apparently, if you want to throw the cast of "Today" under the bus on air, you just have to yell the word "penis" at them.
Lena Dunham is in the process of promoting the final season of "Girls," which premieres this Sunday at whatever time you get home to watch it on your roommate's HBO Go. So, for the next few weeks get prepared to have Lena make her way onto every talk show imaginable.
While normally I would be kind of dreading this sort of thing, I'm actually totally OK with it because, as it turns out, most talk show hosts are hilariously prude when it comes to bathroom humor.
Here is what happened when she stopped by the set of "Today" to talk with Maria Shriver about the show.
I've never seen someone lose composure faster and more pronounced than Maria and Matt Lauer right there.
It's like she said Voldemort's name or yelled "bomb" in a TSA line. I know in the clip they claim to have heard the word before, but they also seemed like terrible liars when they said it, so I really have no idea if they've ever actually heard the word "penis" out loud.
"PENIS?!?! WHAT IS THIS WIZARDRY?!?!?!?!"
"Penis? I...uhhhhh...the...... THERE HASN'T BEEN A PENIS IN THIS CITY IN 40 YEARS SO JUST DROP IT, OK?!?!?!?!"
"YEAH! DUH! OF COURSE WE'VE ALL SAID THE...'P-WORD' BEFORE! WE SAY IT ALL THE TIME! WE'RE NOT BEING WEIRD! YOU'RE THE WEIRD ONE. Pfffft, us not saying *inaudible*?!?! HA! THAT'S A GOOD ONE."
I have no idea what Maria and Matt thought was going to happen when Lena Dunham showed up.
This is a girl who once directed Allison Williams on how to act like her tush was getting chewed out by her boyfriend on camera. I'm pretty sure I've seen Lena's vagina more than I've visited my grandparents in the past two years.
You can watch the full interview here.
Penis.
Citations: Lena Dunham Mortifies Maria Shriver During Live 'Today' Show Interview: See the Hilarious Reaction! (Entertainment Tonight)