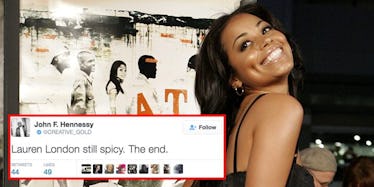 Lauren London Does Not Look Like A Model After Giving Birth, And People Love It
REUTERS
Lauren London looks a bit different, and it doesn't take a genius to figure out why.
The 32-year-old actress gave birth to her son five months ago. Given that she's, well, human, it's not exactly a shock she doesn't look like the 20-year-old who starred with T.I. in "ATL."
But even though that's not exactly a groundbreaking statement, we all know how the internet works.
When a famous new mother is trending because of the way she looks, it's usually because she's made a quick and miraculous transformation to her pre-pregnancy body. (Think Teyana Taylor at the VMAs.)
On the flip side, if a celebrity mom is not trending because of "YO, LOOK HOW HOT SHE IS AGAIN," you might expect some not-so-complimentary comments.
And yet, neither of those things happened when London became a Twitter trending topic on Tuesday morning.
After pictures of her sitting court-side at a basketball game with her fiancé, rapper Nipsey Hussle, became the subject of conversation, the majority of reactions were far from terrible:
Now, I think it's important to stop and point out two things.
First, I'll admit Twitter isn't the be all, end all of public opinion: Just because a lot of people on the app are saying something, that doesn't mean "everyone" is saying something.
Secondly, it's not exactly surprising for anyone to say she looks good (because she does).
But the way she was being discussed on Twitter is still interesting due to this one reason: Most of the tweets were positive comments, but they were responding to seemingly non-existent, negative comments.
And you know what? It's actually a GOOD thing these Lauren London haters don't exist... because the clap-back tweets are MEAN.
But definitely still hilarious.
Yikes.
But seriously, everyone appears to be on the same page here, and this tweet pretty much sums it up:
Either there WERE body-shamers and they got scared off, or there were none at all.
The latter wouldn't be surprising because the fact of the matter is, Lauren London doesn't look like a supermodel after giving birth.
And people love it.
Update: Lauren London addressed the subject with this statement.