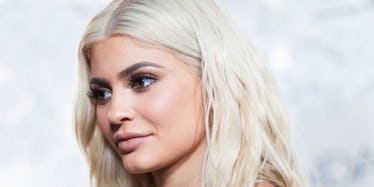 Kylie Jenner Warns Fans: Don't Get Tricked Into Buying Toxic Fake Lip Kits
REX/Shutterstock
Kylie Jenner has finally found a cause she can really, truly get behind: preventing her business from losing money.
In a fit of pure humanitarianism, the 19-year-old reality star posted a series of 20 videos on Snapchat on Wednesday, warning fans not to buy fake Kylie Cosmetics products.
(Yes, it really was 20 Snapchats. I counted. Kylie is very determined to keep her fans safely spending money on her website and her website only. )
It all started when Kylie discovered a fake website called KylieCosmeticsOutlet.com.
In her snaps, Kylie said,
Hey guys, so I've come across this website called KylieCosmeticsOutlet.com. It looks exactly like mine, but it's not. I want to be really really clear and let you guys know that the only place to get my products is KylieCosmetics.com and anywhere else is fake. Make sure you guys check the URL because these other websites are making fake products. It might look exactly like mine, but it's not.
This fake website is still currently up and running, but no doubt Kylie's team will have it shut down very soon.
While the websites look nearly identical (including the prices), Kylie warned her fans the knock-off products are full of "really dangerous" ingredients. She said,
The ingredients that they're using in these fake products are also really, really dangerous, which is my biggest concern. I'll get tweets sometimes saying your order hasn't arrived, or the color's not right, and I have my costumer service team look into it. And after we look into it, it always comes down to the fact that these orders were not placed with KylieCosmetics.com. I feel responsible to give you guys a warning, because there's people out there trying to steal your money. I just want you guys to have the very best, so only shop at KylieCosmetics.com if you want my products, because anywhere else, they don't have them. It's fake and dangerous. And it's the same price, so I don't really see the point.
To further emphasize her point of just how "dangerous" it can be, Kylie also retweeted stories from fans who had first-hand experiences with fake Kylie products.
Kylie did take a brief break from this crusade to devote a few Snapchats to the Smile Train, an organization Kylie donates to that's devoted to helping children in poverty.
But don't worry — after all that save the children crap, she got right back to the real cause.
She said,
I don't sell to anyone else. Make sure you type in your URL and don't Google it, because I just Googled Kylie Cosmetics, and there was an ad with the WRONG URL!
Kylie is just looking out for the safety of your lips, you guys. She's a true philanthropist.
Citations: Kylie Jenner Warns Fans Against Fake Products (Inquistr)