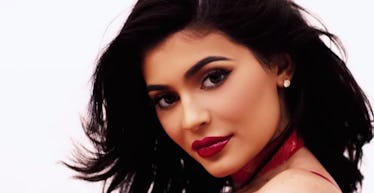 Kylie Jenner Shows Off Major Side Boob In New Topless Photo Shoot
YouTube
Kylie Jenner is lookin' hot as hell on the cover of Complex magazine.
The 19-year-old reality star stripped down and bared it all for the photo shoot, and it's sexy AF.
It looks like Kylie's wearing nothing but nipple pasties and a pair of latex gloves, SOOO UMMM, GRAB YOUR FIRE EXTINGUISHER.
She ALSO is rocking major side boob, so the girls are out and coming at us full force.
Ow owwww, is it hot in here? You're killin' it, Kylie.
There's more where that came from, folks. LOOK AT HOW STEAMY THIS SHOOT WAS. The girl is one hot tamale.
Mmmm, tamales.
There was also some spicy behind-the-scenes footage of Kylie getting ready for her shoot.
In the one-minute clip, Kylie appears to be in some alternative reality kaleidoscope thing. She's chilling with hand-drawn animated creatures and spinning around in circles.
It's maddddd trippy.
The star also got pretty real in her cover story, "In Plain Sight," so it's definitely worth the read.
In the interview, Kylie opened up about growing up in the spotlight, her relationship with Tyga and what it's like to run her own empire as a businesswoman.
She admitted to having a difficult time grasping the depth of her fame. She explained,
When I was younger, I used to think about my sister's name, Kim. Growing up with her, I always knew her name, but now everybody else knows it, too. That's so crazy! It feels different when you say it now: Kim Kardashian. Now, I feel like that when I say my name. Kylie Jenner. Fuck! Everyone knows my name too.
Living a famous life comes with its own set of challenges, which Kylie mentioned.
Because she was raised on a reality TV show, she also grew up being cyberbullied and body-shamed.
Kylie's anxiety reached an all-time high after she got lip injections -- a procedure she didn't initially admit to getting. She broke down when fans tried the #KylieJennerChallenge to replicate the size of her new lips.
She shared,
I used to have a lot of anxiety. I never went out. If I tried to go to the movies or something, I would stop breathing in the middle and just cry. I'm surprised there aren't videos of me out there. I felt super trapped, like everybody was watching me. I felt like everyone was hating on me.
In the end, Kylie said she's living a happy life and has learned to focus on the positives instead of letting the comments of haters weigh her down. She said,
I learned to slow down everything, focus on things that I love, and say no to things I didn't want to do. I used to [agree] to do everything, but when I started taking control of my life again, I felt better.
She added,
At the end of the day I have to live with everything I do. I'm just proud of myself for not going crazy. Tyga helped me with that a lot.
At the end of the interview, Kylie touched on her family's reality show, "Keeping Up with the Kardashians," and what it was like to join the show at just 9 years old. She told Complex,
If someone told me how big it was going to be, I probably would've had a second thought about it. I don't want to be 'Kylie Jenner.' It's become a job more than who I am. I don't even want to be that person anymore.
Thanks for always keeping it real, Kylie. Perhaps one day we'll live life without stalking your Twitter, but for now I guess we'll buy as many KyShadows and Lip Kits as we can.
Citations: Kylie Jenner Cover Story (Complex)