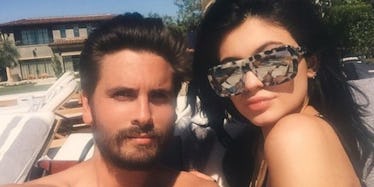 Kylie Jenner Said Rumors She's Hooking Up With Scott Disick Are 'Disgusting'
Instagram
For some odd reason, people are obsessed with the thought of Scott Disick hooking up with Kylie Jenner.
One second, I need to locate the nearest trash can and barf my brains out. People are WEIRD -- and Kylie Jenner agrees.
The 19-year-old is speaking out about the outrageous rumors surrounding a potential fling between Kylie and 33-year-old Scott Disick.
Not only are these rumors a slap in the fact to both people involved, but it's also a slap in the face to Kourtney Kardashian, Kylie's sister, and the entire family really.
Still, people have been adamant about uncovering some kind of romantic relationship between these two. Look, people, you are watching WAY too much TV (or porn) and need to get your minds out of the gutter.
Kylie Jenner took to her official website and app to speak on the baffling rumors. When one of her friends named Stassi asked her about the Scott Disick rumors in question, Kylie said,
That's disgusting. Oh my God, don't ever ask me anything like that ever again!
Even she's scarred from the thought of these rumors. (*Shivers*)
It seems like this particular interview was intended to unleash the truth about some of the uncovered topics in Kylie's life, including rumors regarding reconstructive surgery to her face.
When asked about reconstructive jaw and cheek surgery, Kylie said,
No, I didn't. People started saying that rumor when I was, like, 16. You think Kris Jenner would really, at 16 years old, let me get cheek and reconstructive surgery? Naw.
Take that, gossip fiends.
You can put the Scott Disick gossip and the facial reconstruction rumors to rest because Kylie Jenner has officially spoken.
Kris Jenner letting her get surgery at 16? "Naw." Messing around with Scott Disick? "Disgusting."
Besides, the only man in Kylie Jenner's life right now is 26-year-old Tyga.
In a recent interview with Complex, Kylie opened up about her relationship with Tyga, saying,
The first year we started hanging out, everyone around him told him not to be with me. I still get comments like, 'Don't be with him.' But we're not doing it for the public -- we love each other. We need to be together at all times. We never get mad at each other, we just figure things out.
Not to mention, in that same interview, Kylie Jenner took some of the most amazing photos you'll ever see of her. Do yourself a favor.
Check out the clip above for a closer look!
Citations: Kylie Jenner Shuts Down Scott Disick Hookup Rumors: 'That's Disgusting!' (Entertainment Tonight)