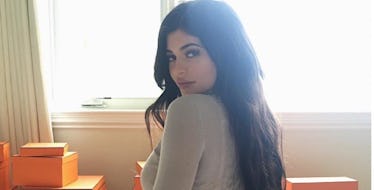 People Think Kylie Jenner Photoshopped This Photo Of Her Butt
Instagram
Kylie Jenner is being accused of using photoshop to slightly enhance her butt in a new Instagram pic.
Three days ago, the 19-year-old reality star uploaded an image of her showing off her backside wearing a new pair of jeans.
The caption read,
Obsessed with my new @fashionnova jeans Get them at FashionNova.com  #ad
However, as ELLE points out, when you go to the Fashion Nova website, the same pair of jeans looks slightly different than the ones she's wearing in the photo.
In the image below, you can see the jeans on one of the website's models.
Now, some people are arguing the center belt loop looks a little stretched out in Kylie Jenner's photo.
Do you see it, or nah?
According to Life & Style Mag, a few fans commented on the photo throwing accusations her way. One user allegedly wrote,
Obvious Photoshop. Look how big the pockets and belt loops are,.
Another was quoted as saying,
This pic have sooo much photoshop omg. Pls wake up @KylieJenner.
I mean, OK. Her butt does look extra large in the photo above. But like, the girl has some serious junk in the trunk.
I personally don't think the picture was photoshopped -- the loop might just look longer because of the angle.
And look, even if the picture was slightly enhanced, who really cares? The changes clearly were super insignificant. Show off that booty, girlfriend. Shake what your mama gave you.
One time, I put chicken cutlets in my bra during a school dance to make my boobs look bigger. You do what you've gotta do. It happens.
The photo has already accumulated over 2.5 million likes, so clearly people are diggin' it.
Kylie Jenner, I have no idea if you photoshopped your photo or not. All I really care about is getting a discount on those jeans.
Can you hook a girl up?
Citations: Kylie Jenner Photoshop Butt Photo (Elle), Kylie Jenner Photoshop Photo (Life And Style Mag)