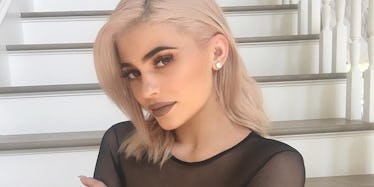 Kylie Jenner Revealed Her New Eyeshadow Palette And The Internet Lost It
Another day, another product from Kylie Jenner that her fans just can't get enough of.
Now, I'm personally waiting for Kylie to release something guys can enjoy. I've suggested a brand of milkshakes, custom-made supercars designed by her and even a line of "Kylie blue" Yeezys in collaboration with Kanye West.
For now, the world will just have to live with the fact that the 19-year-old star is currently focused on building her cosmetics brand. Speaking of which, Kylie Jenner just took to Snapchat to unveil her new eyeshadow palette.
As expected, Kylie fans and makeup enthusiasts everywhere are going bonkers. What'd you expect?! This is KYLIE JENNER we're talking about, people. The girl's got fans out there who've literally tattooed her logos on their bodies.
According to her most recent snaps, Kylie showed off her latest addition to her Kylie Cosmetics lineup -- "The Burgundy Palette." Now, I'm not sure what that means, but I'd assume it has something to do with the color burgundy.
First, Kylie teased her fans with a countdown to the unveiling of a new product. They patiently waited...
She teased some more... So suspenseful!
And finally...
Behold, Kylie Jenner's latest cosmetic creation -- "The Burgundy Palette." Go crazy, Kylie fans.
The 19-year-old lip kit mogul showed off the goods on Snapchat with Nicki Minaj playing in the background.
Kylie kept the palette party going with some Chris Brown tunes.
"All the tools to create the perfect burgundy eye."
How pumped are you for the fall season right now?
Kylie Jenner's palette party didn't stop there. She began applying each shade to her arm. This one's called "Naked."
Next up is "Beach."
"Penny."
"LA."
And finally, (drumroll, please)... "Burgundy."
Fans are absolutely losing it over the revealing of Kylie's new eyeshadow palette.
They're pretty ecstatic.
Guess what's going on every Kylie fan's Christmas list?!
Apparently, makeup is a hell of a drug.