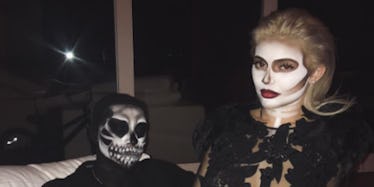 Kylie Jenner's Sexy 'Dead Dinner' Put All Other Halloween Parties To Shame
Kylie Jenner
I'm not really a Halloween person, but apparently, it's a big deal for Kylie Jenner.
She's actually a huge Halloween nerd.
We've confirmed this because, well, all you have to do is take a look at the snaps from her elaborate Halloween dinner.
First of all, let me just show you how much Kylie is into Halloween.
She snapped this on Friday. Halloween isn't until Monday! Seriously. Nerd alert.
Here's the costume she wore to her dinner on the same night.
On Friday night, the 19-year-old and a bunch of friends sat down to a "dead dinner."
Kylie threw on a gorgeous black gown that was, of course, slightly see-through. She also covered her face in white makeup and turned herself into a pretty fancy ghoul.
Tyga, her BF, also sported elaborate skeleton face makeup.
He's unrecognizable. There's no way to prove that's even him under all that makeup! Whoever did it, (maybe Kylie?), though, did a great job.
Here's what the actual dinner looked like. I personally would be too grossed out by these decorations to eat anything.
Oh, and Kendall showed up wearing this, but I'm not sure what she's supposed to be.
Here was her contribution to the evening festivities.
Kylie's dinner was complete with spooky ass music, of course.
And she really went all out with these creepy red lights.
OK, this is actually going to give me nightmares. Well done, Kylie.
 Naturally, the Kreepy Jenner sat at the head of the table.
On the menu? Rotten tomato soup, potion pear salad, penne with creamy blood sauce and chocolate ice cream caskets. Wow.
The drinks were just as gross as the food. The party guests sipped on eyeball martinis and sucked margaritas from syringes.
Seems like a lot of effort to enjoy a martini.
I guess this is just how the other half does Halloween! Especially if you're way too into it like Kreepy Jenner over here.
Citations: Kylie Jenner and Tyga Are Sexy Skeletons at 'Dead Dinner' Halloween Bash (PEOPLE)