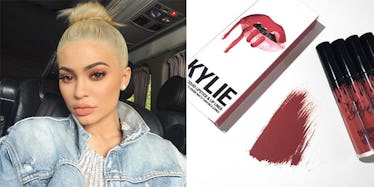 Kylie Jenner Fans Are Decorating Trees With Lip Kits, So Christmas Is Ruined
Instagram
If you've been keeping up with Kylie Jenner, you may have seen some of her holiday makeup teasers on Snapchat over the past few days.
Yep, Kylie Claus is definitely coming to town this Christmas and she's got a shitload of new special edition lip kits and Kyshadows in her makeup sack.
Kylie Jenner finally revealed her holiday makeup collection on social media...
And it looks like a lot of ladies are going to be ditching the traditional Christmas decorations for some Kylie-inspired decor this year.
That's right. The holiday collection, which launches on November 21 at 1 pm PST, features a bunch of lipsticks that double as ornaments because nothing ruins Christmas quite like shamelessly decking your tree out in lip kits.
There are two lip gloss ornaments that contain the shiny new shades "Jolly" and "Naughty."
One ornament contains a sparkly metal lipstick called "Dancer."
Plus, there are a couple festive lip kit ornaments that come in the Santa-approved colors "Vixen" and "Merry."
The new collection also features a set of six mini matte liquid lipsticks that are sure to make your lips ready for the mistletoe.
It also has a matte and glitter gloss set that comes with four full-sized tubes in shades like "Cupid," "Noel," "Angel" and "Blitzen."
If you're not trying to slave over your BFF's gifts with some wrapping paper and tape like one of Santa's overworked elves, you can skip the wrap job altogether by stuffing your lip kits in a stylish Kylie Christmas stocking.
Or you can opt for something that's a bit more versatile, by stashing your lip kit presents under the tree in one of Kylie's metallic silver makeup bags.
The collection also includes a Puff Ball Keychain to get you though the winter days when real snowballs just aren't cutting it.
If your wish list happens to have a few of Kylie's coveted eyeshadows on it, you're in luck. Kylie has also given us the gift of three shimmery new crème shadows including "Yellow Gold," which is a gorgeous, gilded shadow...
"Golden Plum," which features a pretty purple color...
And a "Camo" Kyshadow that is sure to make your friends all army green with envy.
If three of Kylie's crème shadows aren't enough to make all of your holiday wishes come true, there's also a new Kyshadow palette.
Inside this bad boy you'll find nine festive AF Kyshadows hues including "Sugar Cookie," "Frosty," "Winter," "Nutcracker," "Chestnut," "Mittens," "Gingerbread," "Silent Night" and "Evergreen." *Cue tears of joy.*
There's also a brush set that contains an assortment of shadow and liner brushes to help you apply your new holiday loot.
Last but not least, Kylie Cosmetics also debuted an epic Holiday Box that comes loaded up with a white Kyliner called "Snow," a Kyshadow Palette, three crème shadows and these 10 lip glorious products.
So yeah, you might want to take advantage of being on the "Nice List" by asking Santa for this bougie box of makeup.
After all, you're going to need a lot of lip kits to decorate a whole damn Christmas tree.
Citations: Here Are All the Products in Kylie Jenner's Massive Holiday Collection (Cosmopolitan)