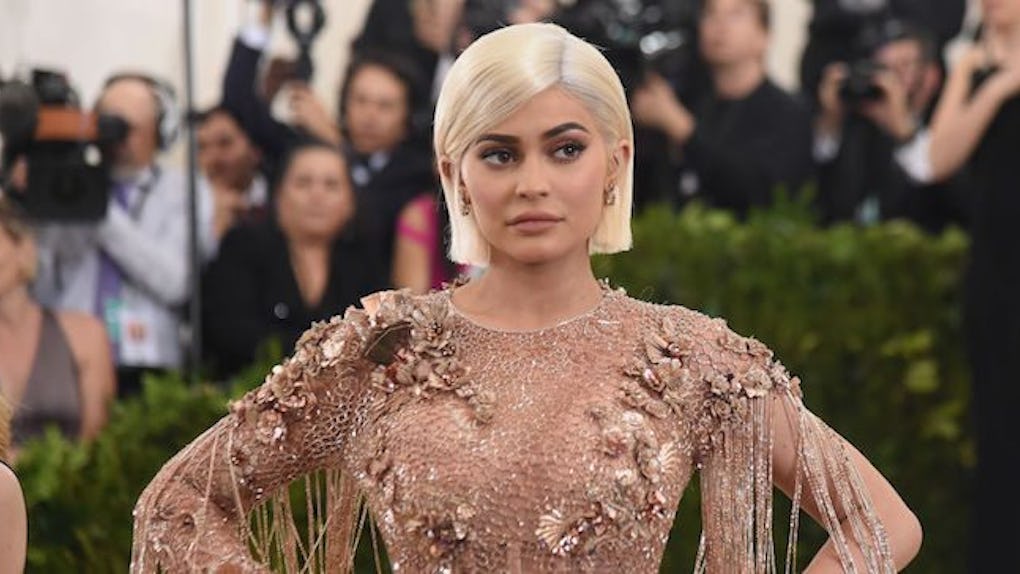 Nicholas Hunt/Getty Images for Huffington Post
Where's Kylie Jenner During The 2017 VMAs? Fans Are Wondering
With so much drama going on between the Kardashians and Taylor Swift -- as well as with Travis Scott's appearance -- everyone was wondering where Kylie Jenner was during the VMAs. Fans were scoping out the red carpet to see if they could spot the youngest Jenner, but they couldn't find her anywhere. However, they did see who made them do a double take.
There was one woman at the VMAs with platinum blonde hair, just like Jenner's look at the 2017 Met Gala. At May 1 event, Jenner wore a naked-seeming Versace dress with jewel embellishments. And, well, this lookalike on the VMAs carpet was wearing a naked-seeming dress with jewel embellishments. She definitely caught the attention of Jenner fans looking out for the reality TV star's presence.
That woman was Bebe Rexha. If you don't know, Rexha is a singer, and you've probably heard her voice before. She's the one who sang on G-Eazy's track "Me, Myself & I." It was definitely a disappointment for Jenner fans, but Rexha absolutely made a mark, so good on you girl, go ahead. Check out how similar her look was to Kylie's Met Gala appearance:
The similarities really did freak out a lot of people.
Still, fans were super disappointed that Kylie was not to be seen on the VMAs red carpet.
Life of Kylie actually aired in the middle of the VMAs, and some decided not to miss the reality show for the awards — they're loyal. No Kylie at the VMAs? No VMAs. Oddly enough, the Aug. 27 episode of the show focused on Jenner attending the 2017 Met Gala. It's the competition of the award shows!
Regardless of Jenner's whereabouts, there was certainly a lot to focus on, like the premiere of Taylor Swift's "Look What You Made Me Do" video, Miley Cyrus' performance of "Younger Now," and much more. Jenner, you were missed, but the other stars totally held down the fort while you were gone.