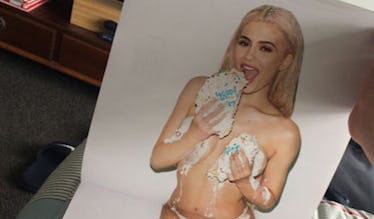 Kylie Jenner Covers Bare Boobs In Cake But Gets Own Bday Wrong In Sexy Calendar
Twitter
2016 might have been the year of Kylie Jenner realizing stuff, but 2017 is the year she forgets her own birthday.
According to TMZ, the 19-year-old reality star published the wrong date for her birthday in her new sexy calendar.
If you're one of the people who bought the calendar, you may want to turn to the month of August and check it out.
You see, Kylie Jenner was born on August 10. However, the print says "20 today! Kylie's Birthday" on August 20.
Here, take a closer look.
Obviously, Kylie's fans noticed the mistake and posted on social media to let her know she messed up.
LOOK AT WHAT YOU DID, KYLIE! I guess this year, the star will turn 20 on the 20th! Sorry about it, Ky.
Oh, we also haven't talked about the most important part of this calendar. For her birthday month, Kylie posed topless and covered her bare boobs with cake.
Her entire calendar is pretty NSFW, but this photo certainly takes the cake.
Ha ha ha, see what I did there?
"It's not even my birthday, but he want to lick the icing off."
"I know you want it in the worst way, can't wait to blow my candles out."
"He want that cake, cake, cake, cake, cake, cake, cake, cake, cake, cake, cake, cake, cake, cake, cake."
Rihanna would be so proud.
Here are a few other sexy shots from her calendar for your viewing pleasure. The girl used a lot of props including balloons, a bike and a snake.
She stripped down to a sexy leotard and did her thing.
She also rode a bike like a badass...
...and rolled around on the floor with a snake.
Is that thing alive? Should we be nervous?
Whatever. Happy birthday, Kylie! August 20 can't come soon enough.
Citations: Kylie Jenner Calendar Wrong Date (TMZ)