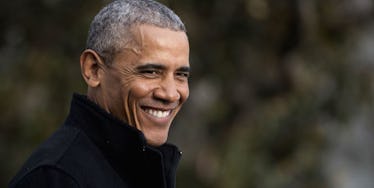 Kris Jenner, Bella Hadid And More Celebs Pay Tribute To President Obama
REX/Shutterstock
For the love of Christ, please please please SOMEONE barricade the front door of the White House. DO NOT LET HIM LEAVE!
We're about nine days away from *sighs* President Donald Trump taking office.
After eight years of an Obama administration, the White House will be peacefully handed over to the incoming POTUS on January 20 during the presidential inauguration.
He's not done being the president yet, though.
He's in the process of his farewell tour, saying goodbye to the various organizations and institutions that have been a part of his historic tenure in office.
Last night, President Obama made his biggest stop on the tour, giving his final address to the nation from Chicago.
Anyone watching the speech can tell you it was a big ol' sob festival. Whether you were at the venue in person or at home covered in Dorito dust watching on a laptop, there is a good chance you went through half a box of Kleenex during his address.
And you weren't alone.
All of Hollywood was clearly invested in the event, and they made sure to share their feelings on social media.
Political expert and random star of the 2016 election Van Jones signed on to share some words of encouragement.
Shonda Rhimes swung an invite to the event because SHE'S SHONDA RHIMES AND SHONDA GOES WHERE SHONDA WANTS.
Comedian Jordan Peele's love tweet to Obama is absolutely perfect.
Khloé Kardashian took a break from letting people know how Revenge Bodies work to share some love for our *wipes single tear away from face* POTUS.
Potential 2020 presidential candidate -- please? -- and current New Jersey Senator Cory Booker got online to urge his followers to take action and "fight for America."
Please don't leave me, Barry.