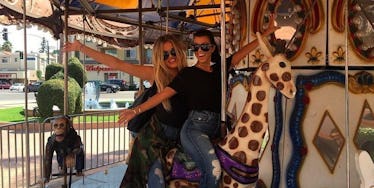 Kourtney And Khloé Kardashian Were Adorably Twinning On A Merry-Go-Round
Instagram
Khloé Kardashian and her main squeeze Kourtney Kardashian went on the cutest outing in Sherman Oaks, California.
And the most adorable part about this affair? The gals were TWINNING in the chicest outfits ever.
Not exaggerating one bit — these ensembles are SO DANG TRENDY your fashionista self is going to go absolutely WILD.
Are you ready for this?!
Some major sister/best friend vibes went down. The star-studded duo slayed it up in style… and what better place to do it than on a merry-go-round?!
Khloé's Instagram of the two of them is straight fire.
Khloé wore a fitted black tank top tucked into distressed skinny jeans, while Kourtney rocked a black t-shirt paired with ripped high-waisted skinnies.
My absolute favorite part about Khloé's and Kourtney's outfits is obviously their stunning furry shoes.
Seriously, though, THESE BABIES NEED TO GET IN MY CLOSET ASAP.
From Kim Kardashian's savvy chokers to Khloé Kardashian's sexy knee-high boots, we can always count on our favorite sister squad to give us fashion inspiration.
BRB guys, going to buy some fuzzy heels to pair with my skinny jeans!
Citations: All the fun of the fair! Kourtney and Khloe Kardashian wear matching outfits as they ride a merry-go-round during sisters' shopping trip (Daily Mail)