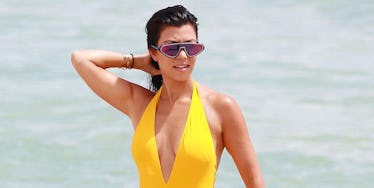 Everyone's Pissed At Kourtney K For Letting 4-Year-Old Penelope Wear A Lip Ring
REX/Shutterstock
Is Kourtney Kardashian a cool mom, or a parenting menace who needs to be stopped before her kids become dangerously fashionable?
That is the current debate online after the 37-year-old reality TV staple posted a picture of her laying in a bed with her daughter, Penelope, and Penelope's new pierced lip ring.
Kourtney captioned the post,
Our Oscar Sunday. Yes, that's a lip ring. Thanks @kimkardashian
The story seems to be that Kourtney and 4-year-old Penelope decided to skip out on this year's Oscars, opting instead to stay home and do some mother-daughter Academy-based bonding.
Either before or after the night, Kim convinced Kourtney to let Penelope get some lip metal going. We can't tell if the lip ring is real or fake.
Honestly, I didn't think this was that big of a deal. Worst-case scenario, Penelope can just take it out and let the whole heal normally. Best case scenario, she becomes the coolest person in elementary school, gets super into leather jackets and becomes a really fun high school teacher/Etsy person in a few years.
Also, this thing could totally be a fake and Kourtney K is just trolling the web.
Either way, the internet is not happy with this move and has been throwing Kourt under the bus ever since she posted the pic.
The comment section of the Instagram post has been riddled with comments like,
Does anyone feels too young to have a real piercing???? Hopefully it's not real. #TooLittleToFeelPain
Another user asked Kourtney,
Why would you put that on a child?
While one other one thought this was a good time to talk about her own oppressive upbringing, saying,
When I was her age I wasn't even allowed to wear nail polish.
OK! WE GET IT, DANIELLE! YOU GREW UP IN A CULT! STOP MAKING THIS ABOUT YOURSELF.
Some people, though, are totally fine with the lip ring.
Did Kourtney go too far?
Citations: Haters Descend on Kourtney Kardashian for Letting Daughter Penelope Wear a Lip Ring (Cosmopolitan)