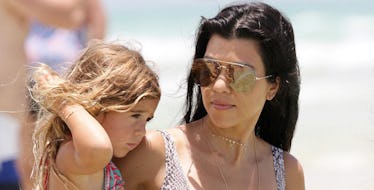 Kourtney Kardashian's Three Kids Stick To A Strict Gluten And Dairy-Free Diet
REX/Shutterstock
If you were wondering what Kourtney Kardashian might be hiding in her pantry, just know that she probably isn't stacking up on Pop-Tarts and Cheez-Its.
The 37-year-old mother of three has enforced a strict gluten- and dairy-free rule in her house since spring of last year.
Kourtney Kardashian took to her official app to reveal how implementing a strict gluten- and dairy-free diet has resulted in a "great positive change" for Mason, Penelope and Reign. She wrote,
I have noticed a great positive change in behavior with my children.
So, is she really THAT strict with the new rules? Most of the time, yes. But there are also times when she'll give in.
She added,
Of course, we pick our battles and I do let the kids have popcorn at the movies and a churro at Disneyland, etc. But for birthday parties, which can sometimes be every weekend, I bring extra gluten and dairy-free cupcakes... and they are happy with that.
Yum, cupcakes.
For breakfast, Kourtney will offer either gluten-free waffles and scrambled eggs or cereal.
If she's feeding her kids milk, she makes sure that they're only consuming either homemade almond milk, organic rice milk or organic coconut milk.
Strict means STRICT! Kourtney wrote,
For lunch, we usually have carrots and celery with hummus and a gluten-free rice tortilla with sliced turkey meat or turkey dogs — no bun. Penelope and I love salads, so we usually eat a big yummy one for lunch.
Hey, Kourtney's kids, I know you're probably wondering when mom will let you have a couple of doughnuts, but you'll thank her later. And besides, sometimes she does give in.
In her recent post about her life-changing diet, Kourtney revealed that it's all about creating the right balance. She went on to say,
When we were just in Italy, we all had pizza one night. But for the rest of the trip, I found that almost every restaurant had gluten-free pastas and gluten-free bread. We also had ice cream one evening, but almost every other night, we had lemon sorbet for dessert.
Kourtney also offered her fans a full list of easy meals to make if you're looking to take on the challenge of sticking to a gluten and dairy-free diet.
Some of the meals include maple quinoa clusters for breakfast, brown rice tortillas for lunch, dried mangoes for a snack and gluten-free pasta for lunch.
Citations: Kourtney Kardashian Reveals What She Feeds Her Gluten- and Dairy-Free Kids (US Magazine)