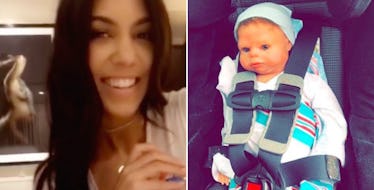 Kourtney Kardashian Just Added A New 'Baby' To The Family And He's So Creepy
Snapchat
We need to talk about Kourtney Kardashian because something is not OK.
On Tuesday afternoon, the 37-year-old reality star added terrifying pictures and videos on Snapchat that will make you worry about her sanity safety.
The mother of three -- yes, she already has three kids -- decided to add a fourth child to the mix, except... he isn't real.
KOURTNEY KARDASHIAN ADOPTED A CREEPY BABY DOLL AND NAMED HIM TAYLOR AND HE WILL HAUNT YOUR DREAMS AT NIGHT.
WTF?!?!?!??!?!?!?!
Kourtney Kardashian must have baby fever (even though like I said, she has three children) because she welcomed a new member to her fam.
She spent the day with her demon-child on (what looks like) the set of "Keeping Up with the Kardashians," and made members of the crew hold him.
DROP IT AND RUN, CESAR. SAVE YOURSELF. CALL THE EXORCIST. DO SOMETHING.
"PLEASE, I HAVE A FAMILY..."
COME ON, PAXY. DON'T GIVE UP ON YOUR LIFE. THERE IS STILL TIME FOR YOU. THERE IS A LIGHT.
Seriously, though, what the eff is going on?
Kourtney also shared a video of herself holding baby Taylor. I can't believe I just called it by its name.
THE WORST PART OF THIS ENTIRE THING is she introduced Taylor to her children.
If you listen closely, you can hear a young girl's voice -- one that sounds 100 percent like Penelope's -- encouraging Kourtney Kardashian to rock and feed the baby.
Then, at the very end of her SnapStory, Kourtney added a picture of Taylor creepily sleeping in a tiny bed on the floor.
This looks like the opening scene of a horror movie. Chucky, is that you?!
So far today, January 4, Kourtney has only posted Snapchats of her working out in the gym. There's no doll in sight, but we at least know she's alive.
Throw out the doll, Kourt. It's your only way to survive.