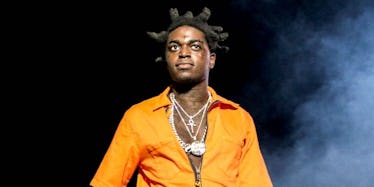 Kodak Black's Real Name Is Super Unique And Here's How To Pronounce It
Getty
One of the buzziest names going into the 2017 MTV Video Music Awards is Kodak Black, the young rapper who made a huge splash this year and is now setting his sights on nabbing the Best New Artist award at the VMAs. Although the 20-year-old became famous as Kodak Black, it's not actually his real name. Kodak Black's real name is Dieuson Octave, pronounced Doo-son Oct-aave.
Black was born in Pompano Beach, Florida in 1997. Both of his parents are emigrants from Haiti, and named him Dieuson as an homage to their homeland. Octave gained the nickname of Black early on, being called "Black" and "Lil' Black" by friends and family at a young age, and that stuck as he began rapping. It wasn't until he joined Instagram that the "Kodak" moniker was added. He made his Instagram name Kodak Black as a reference to Kodak cameras, a tongue-in-cheek nod to the photo-sharing app, and the name just stuck and became his offline name as well.
Kodak Black has leveraged his off-the-walls social media presence into viral fame for years now, but this year is his big break into mainstream success, which might be underlined by snagging that Best New Artist trophy at the VMAs. Up until this year, Black has been a mixtape artist, with five mixtapes under his belt. This March, he released his highly-anticipated debut album Painting Pictures, finally making him eligible for VMA consideration.
But to take home the Moonman, Kodak Black is going to have to beat out some tough competition. Also in the Best New Artist category are R&B singers Khalid and SZA, fellow rapper Young M.A, and burgeoning pop stars Julia Michaels and Noah Cyrus. The 2017 MTV Video Music Awards will air at 8 p.m. ET on MTV on Sunday, August 27, with Katy Perry as this year's host.