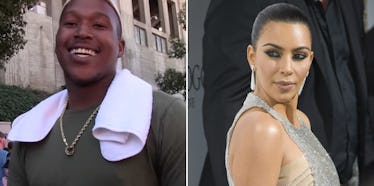 Reggie Bush's Brother Reveals Family 'Never Liked' Kim K: 'She Was Too Much'
TMZ/ Shutterstock
BREAKING: Reggie Bush's less-hot-but-still-v-cute brother finally breaks his silence on Kim Kardashian West.
After years of being relentlessly hounded by the media for his opinion on Kim, Javon Griffin told TMZ on Sunday he "never really liked" his brother's ex.
While attending the Rams game on October 9 at the LA Memorial Coliseum in, you guessed it, Los Angeles, Griffin told the site he had no interest in being Kimmy's brother-in-law.
He said,
She was too much… she was too much for the family… we couldn't handle her… just, too — just too much. I'll just leave it at that. Just too much.
Ugh, come on Javon, be specific. HOW. MUCH. WAS. SHE?
If you were an advertising executive, this kind of relative vagueness would never fly. Give the consumer something to compare and contrast, Javon.
Kim is "too much" in comparison to what, exactly? An active volcano? A pile of Nature Valley granola bar crumbs? That "chicken nuggets is like my family" kid from "Wife Swap"?
Javon and Reggie's family will likely never have to deal with Kim Kardashian again. But based on J's review of her personality, a reunion would look something like this:
The truth is, America loves/tolerates Kim Kardashian West because she's extra AF.
Only someone who's "too much" could turn over a decade of deadpanning straight-to-camera into a massively lucrative empire spanning multiple mediums.
When I assign tags to this post, it'll be Kim Kardashian's name, not Reggie's or Javon's, because no one's checking for them.
GIVE US THE DRAMA, KIMMY!
MORE, KIM, MORE! SHOW THE WORLD YOU OWN OUR HEARTS AND OUR WALLETS! WE LOVE YOU FOREVER!
BRING IT ON HOME, GIRL!
ONE MORE TIME, FOR THE CHEAP SEATS!
Alright, sis. Take five. You earned it. You're a star.
Later, Javon.
Citations: REGGIE BUSH'S BROTHER WE NEVER LIKED KIM K (TMZ)