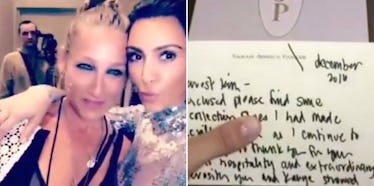 Kim K Got Custom Shoes From Sarah Jessica Parker And Twitter Is Jealous
Snapchat
Kim Kardashian is giving everybody online shoe envy right now. The reality star took to Snapchat to show off a pair of heels she just got that were made by none other than Carrie Bradshaw herself.
That's right — Kim Kardashian started off this month by opening a shoebox with a pair of heels custom made for her by Sarah Jessica Parker.
Kardashian gushed over the strappy, suede heels in a Snapchat video, sending her thanks to SJP, saying,
So you all know how much I love Sarah Jessica Parker, and look: She made me these amazing suede shows. She knows I love a nude suede shoe, just any nude heel, so I'm so grateful to have these custom shoes from her SJP line. Thank you, Sarah Jessica!
Check out the new kicks below.
And of course, the enviable custom shoe is sending "Sex and the City" fans into a jealous frenzy online, with some users even questioning Kardashian's "SATC" fandom credentials.
Kim Kardashian has publicly professed her love for Sarah Jessica Parker a few times before. Back in September, Kardashian met up with SJP backstage at a Kanye West concert, and Kardashian called Parker her "idol."
Parker returned the favor by singing Kim and Kanye's praises on an episode of "Watch What Happens Live" shortly afterward.
As for the jealous fans, Kim Kardashian is making some of their shoe dreams come true. She can't gift them all custom-made Sarah Jessica Parker heels, but she does happen to be married to a famous shoe designer.
Kardashian has been sending some of her fans free pairs of Yeezys this week to celebrate the release of the new "Zebra" design.
The Twitter users who got a pair should consider themselves extra lucky, as the newly released shoe is being deemed nearly impossibly to get a hold of.
I wonder if Kim will send Sarah Jessica Parker a pair of Yeezys as thanks for the new heels.... as if we'd ever see SJP wearing sneakers!