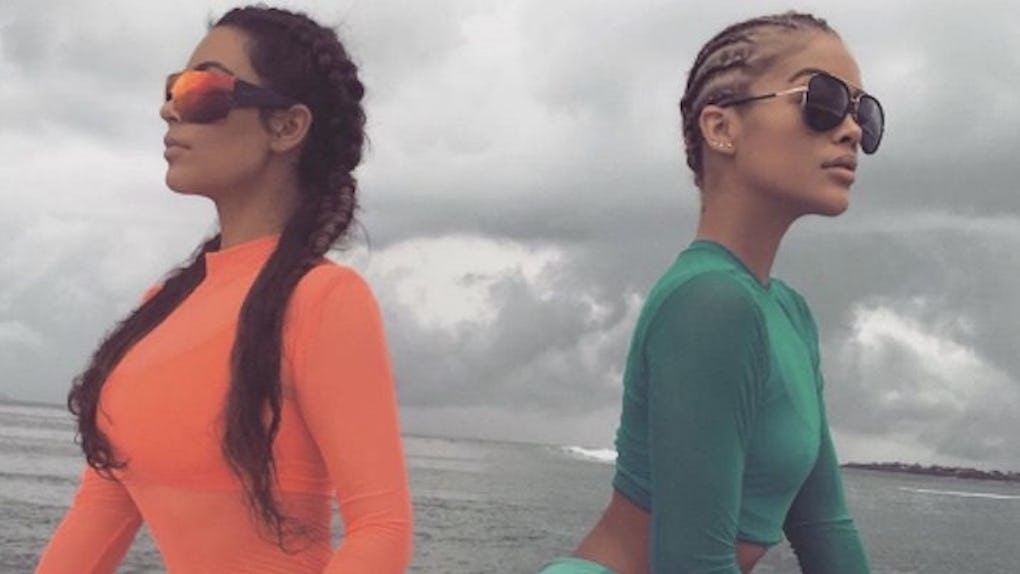 Instagram/ Kim Kardashian
Kim Kardashian Is Living It Up On Vacation In Mexico And We're Super Jealous
Kim Kardashian West and Jasmine Sanders are kissing summer goodbye the only truly socially acceptable way: butts, boats and BFF bikinis.
IT'S THE THREE Bs, Y'ALL!
On a ladies' trip to Punta Mita, Mexico, K and J wore complimentary swimsuits.
The pair lounged on a boat way nicer than the one your friend's stepdad let you drive for a second in middle school.
Kim also did a bunch of butt stuff I'll probably never be sexually confident enough to pull off but still totally support.
She enthusiastically narrated a jet ski twerk-off…
...before hopping on one herself.
Naturally, it isn't vacation without some sea siren extensions.
And TURBO THOT flip flops.
AND casual poop videos.
When Kimmy wasn't bonding with her girls over water sports, she spent some quality time with her babies.
Kim, North & Saint West pic.twitter.com/EtRIR7pKmj — DSTR3SD (@DSTR3SD) August 19, 2016
Saint West looked so deliciously cute he frankly helped me understand why fairytale witches lure children to their forest homes to eat them like Thanksgiving turkeys.
Saint West is so adorable. pic.twitter.com/LuZpI6Q5n1 — Donntess Vaughn (@BrianMcLight) August 19, 2016
Kim just freaking gets summer, you guys. She just freaking gets it.
Citations: Kim's still got her booty! Kardashian jiggles her curvy behind before slimmed-down star 'twerks and jetskis' with pal Read more: http://www.dailymail.co.uk/tvshowbiz/article-3748178/Kardashian-jiggles-curvy-slimmed-star-twerks-jetskis-pal.html#ixzz4HnYUzbh7 Follow us: @MailOnline on Twitter | DailyMail on Facebook (Daily Mail)