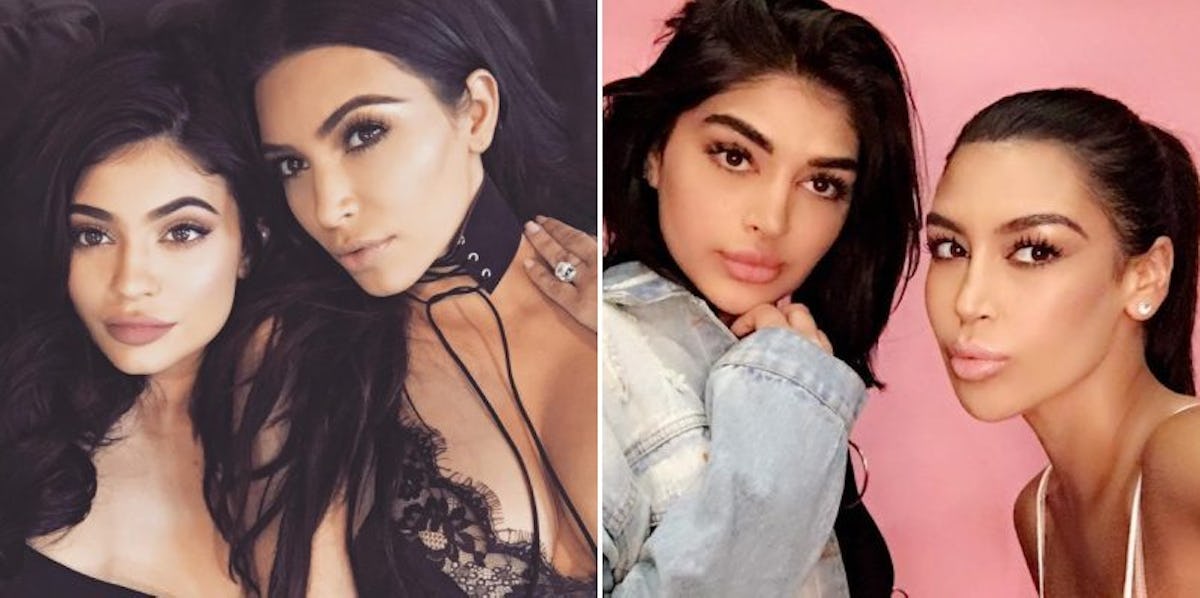 These Sisters Look Exactly Like Kim Kardashian And Kylie Jenner And It's Freaky AF
Instagram
I used to think there was one and only one Kardashian family, and ya know what, I'm still right. BUT! I'll be damned if these sisters don't look more like them than any other knock-off Kardashian I've ever seen. Sonia and Fyza Ali are Kim Kardashian and Kylie Jenner's lookalikes and have our heads spinning faster than you can say Kris Jenner-is-the-true-bad-ass-lets-get-real. 
Sonia and Fyza are reportedly lifestyle bloggers who currently live in Dubai and Kuwait, and look so much like the famous sisters it's almost upsetting. The pair utilizes the hashtag #sonjaxfyza, and even promote beauty and lifestyle products, much like the actual Kardashians. On their website under the "About Us" tab it says,
Fyza specialize's in makeovers for Middle Eastern skin and Sonia is a beauty addict that also posts her reviews and life style posts on Instagram. Fyza is a makeup artists for the ruling family's of the Middle East.
Checks out.
A photo of #sonjaxfyza recently starting making the rounds on Twitter and quickly garnered over 8,000 retweets. People couldn't understand what they were looking at. The public is not sure which sister is Fyza and which sister is Sonjia, but in particular, the one who looks like Kim has a truly shocking similarity.
Take a look.
What is happening?
Where am I?
It's overwhelming.
People on Twitter believe the sisters likely have undergone serious cosmetic surgery to get the "Kardashian look," and one person even shared what is believed to be before and after photos of the sisters. Still, we can't know for certain, and even if they did get plastic surgery, who are we to judge?
The Kardashians did, after all, almost single-handedly invent today's society's beauty standards.
If Kim and Kylie are what these two are aiming for, they are nailing it. We just wonder what the real sisters have to say about their actual twins.
Probably, "Cute, doll."