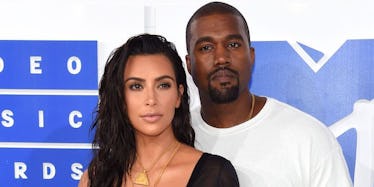 Kim & Kanye Went To IHOP For Their Anniversary And Honestly, I Want That Life
Jamie McCarthy/Getty Images
Kim Kardashian and Kanye West have only been married for three years, but they're already over all the anniversary hype. In a recent interview, Kardashian revealed that she and West don't make a big to-do about their wedding anniversary anymore; they like to keep things chill (and only gift each other with giant walls of flowers... more on that later). Kimye tied the knot on May 24, 2014, in Florence, Italy, in one of the most lavish weddings I've ever seen (I was totally there and everything), but this past May 24, Kim and Kanye went to IHOP for their anniversary, and that is just the most pure thing I have ever heard. Kardashian told Allure,
We don't do gifts. [Kanye and I] talk about it all the time, about not getting too much and trying to be as rounded as possible. I don't like presents anymore. We just did absolutely nothing [for our anniversary]. We spent two days in Santa Barbara, and we slept. You know what? I think we went to IHOP. That's what we did.
OK, so Kimye went to IHOP, but I really need to know what they ordered. Did Kim get an omelette? Did Kanye get pancakes? And what kind of pancakes did he get, if he got them?! I need answers, and I 100 percent need them because I'm hungry as hell right now. TELL ME, KIMYE.
IRL, they didn't only go to IHOP, and Kanye did give Kim an anniversary gift. Although, at this point, you could probably just call it a tradition more than a gift. West loves to give Kardashian flowers. They were married in front of a giant wall of white flowers, and he's repeated that gift lots of times ever since. Kanye usually does a wall of flowers or some form of massive bouquet, but this year, he filled their living room with giant bouquets of flowers that look like a bunch of floating clouds. Kardashian posted a video of the flowers on her Snapchat story, saying,
I mean, how cute that I get to come home and see these gorgeous floating flowers. Happy anniversary!
I'm going to call this a Kimye tradition because he gets these flowers for her at least once a year, and not just on their anniversary. So when Kardashian says they don't give each other gifts anymore, she probably means they don't get each other typical anniversary presents like jewelry, watches, clothes, shoes, etc. They stick to flowers and meals, which is pretty cute, if you ask me.
West does go all out for Mother's Day, however. On Mother's Day 2016, West had an entire string orchestra come to the house to perform for his family when they woke up. And North helped choose the songs! They played lots of tunes from Annie, and I respect her knowledge of show tunes.
He went all out for Mother's Day 2015 as well because Kanye West commits to the role. Kardashian posted on Instagram about her husband's intricately planned gift for Mother's Day. The first gift was "thousands" of white roses in their hotel room in Brazil. She said in the post,
I got to my room in Brazil and my amazing thoughtful husband had the sweetest note with a couple thousand roses covering my entire suite for Mothers Day! I'm so sad I'm so far away on this day but happy we celebrated yesterday! I love you baby & North soooo much!!!
Then, West brought a string quartet to their Mother's Day dinner because West loves a good grand gesture. Kardashian said in her post,
So I get to a restaurant in São Paulo & my husband had a string quartet waiting playing Sam Smith!!!!! Every single waiter who brought food said "This is from Mr. West for the best mother in the world"! Seriously I have the best husband ever!!!!
So yeah, maybe they don't give each other gifts anymore, but they are still committed to those flower walls.