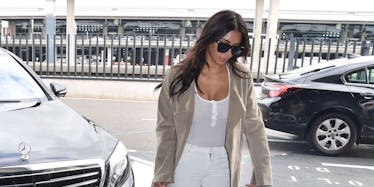 Kim Kardashian Explains How To Not Look Like A Disgusting Slob After Traveling
REX/Shuttershock
It's actually impossible to look cute at an airport.
You're carrying a 50-pound luggage bag, taking your shoes on and off for security and trying to make sure you're dressed for the 20-degree plane, which is unfortunate because you never know if you'll be sitting next to the love of your life in economy class.
Kim Kardashian never has that problem. But of course she wouldn't. Homegirl even looks good with blood all over her face.
So how do us normal people attempt to look decent while jet-setting the world and pretending we're a Kardashian? Kim decided to give us some help on her app.
Step One: Sleep
Kim starts off by saying,
Whenever I arrive to a new location, I try to go to bed super early to help get on local time. I can't live without my silk pillowcase — it always helps me get a good night sleep!
OK, but 1) I don't own any silk pillowcases, and 2) Kim still looks bomb af when she's sleeping, so she definitely has an advantage.
Step two: Exercise
Kim says,
For my first day in a new city, I try to get out and about for a little. Getting any type of exercise helps me adjust to the specific local time.
Exercise? LOL.
Kim's workouts look like mad effort.
Step three: Spend?
Then, she gives us a few specific items we can buy so that maybe we can look one-fourth as good as she does.
Shhh Silk's Marble Silk Pillowcases ($139)
Yogi Refreshing Mint Vital Energy Tea ($5)
Skyn ICELAND's Icelandic Relief Eye Cream with Glacial Flower Extract ($45)
Aura Cacia Relaxing Lavender Room and Body Mist ($9)
Giorgio Armani High Precision Retouch Concealer ($40)
So what you're saying is for a grand total of $238, I can attempt (and most likely fail) to look like this?
No, thank you. That's like at least 15 burrito bowls at Chipotle with guac.
I know I'll never look as good as Kim at an airport, but at least I can admire how she looks from the comfort of my own bed.
Citations: Kim Kardashian Offers Tips On How You Could Avoid Jet Lag! (Perez Hilton), Kim Kardashian Does Not Travel Light With Six Huge Suitcases for Paris Trip (Us Weekly)