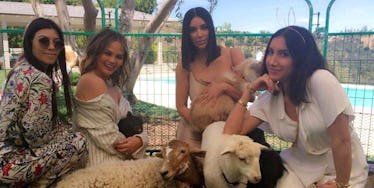 Kim Kardashian Outdid Everyone On Easter With This Backyard Petting Zoo
Snapchat
If you think you had a better Easter than the Kardashians, you are sorely mistaken. Apparently, the one thing Kim Kardashian knows better than fashion is how to throw an Easter party because the celebration she hosted looked epic.
TBH, I've never been more jealous of a holiday bash in my entire life.
Kim K shared pictures of her Easter party on Snapchat and Instagram on Sunday, April 16, and the footage will make you wish you were invited.
For starters, John Legend and Chrissy Teigen showed up and celebrated the holiday with the Kardashians.
During their stay, John teamed up with Kanye and put on gigantic bunny suits for their kids to enjoy -- and the pictures are priceless.
Kim shared one of the photos of Kanye as  "Dadye," and North looks completely ecstatic.
The party gets better than that, though.
Based off another photo shared on social media, Kim Kardashian had a petting zoo in her backyard for her guests to enjoy.
Yup. She had a personal petting zoo. That definitely tops every Easter party I've ever attended.
In the photo (which will totally give you FOMO), Kim K, Chrissy Teigen and Kourtney Kardashian are chillin' with piglets and lambs in the backyard of her home.
Fans on Twitter are just as taken aback as we are, and hope they'll be able to "rent" a petting zoo someday, too.
They are so "extra."
It's safe to assume everyone's kids had a great time petting the animals and playing with "Dadye" and John Legend in their bunny costumes.
Kim even shared shot of a beautiful Easter basket John and Chrissy's daughter, Luna, gave her family (her parents might've helped a tiny bit).
Thankfully, the entire day seemed to be a success, and we're happy the Kardashians had a drama-free celebration with the fam.
Kim's most recent post shows her family posing in their Easter outfits, with the caption, "Easter 2017."
They look a lot happier than they did in this family portrait -- that's for sure.
Citations: Kim Kardashian Shares Adorable Easter Family Photos and Kanye West Even Wore a Bunny Suit: See the Pics (US Weekly), Chrissy Teigen, Kim Kardashian and Kourtney Kardashian's Families Are Having the Fanciest Easter Together (E! News)