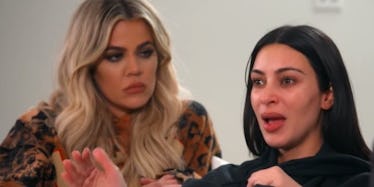 Kim Kardashian Defends Herself For Showing Robbery On 'KUWTK' In Twitter Rant
E!
Kim Kardashian defended her decision to air the Paris robbery episode of "Keeping Up with the Kardashians."
A little over five months after Kim was bound, gagged, locked in a hotel bathroom and robbed of between $6 million and $11 million worth of jewelry, "Keeping Up with the Kardashians" finally aired the much anticipated episode featuring the attack last night -- just one week after the show's season 13 premiere.
You can watch a small clip from the show here:
Before the episode premiered, Kim primed audiences by sending a series of tweets explaining what she was emotionally dealing with on the heels of the event.
She also included a small explanation on why she allowed E! to run the episode at all.
She made sure to also thank the French police, who were responsible for dealing with the robbery, and her family, friends and loved ones for being by her side.
After the episode, Kim posted a few more tweets thanking fans for watching the show and giving a final message on how she wasn't going to let the events of the night ruin her life.
She put a similar post up on Instagram.
She captioned the photo with,
Tonight's episode is going to be very tough for me. However, I thought it was important to share this story through my eyes & not in an interview where my own words could be twisted. I have always shared so much & I'm not going to hold back when this was probably one of the most life changing experiences for me. I would never wish this experience upon anyone, but have learned some valuable lessons & feel so blessed to be safe home with my babies & husband. To my friends, family, and loved ones I can't thank you enough for being there when I needed you the most. To the French police, thank you for your incredible hard work. *This was our last family photo taken in Paris
We wish Kim and the Kardashian family the best.
Citations: Here Are All The Kardashians' Reactions To The Robbery Episode (Buzzfeed)