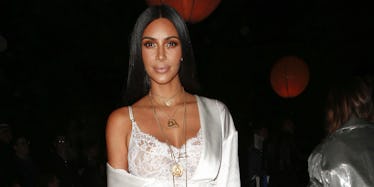 Kim Kardashian's BFF Updated Her Site With B-Day #TBT Pic
REX/Shutterstock
Guys, it's been a rough month for Kim Kardashian, so I'm asking anyone invited to her birthday party to...
A) Invite me. I'm wonderful at meeting new people and could really cheer her up with some funny anecdotes about this one time... You've stopped reading, haven't you?
B) Not say the words "jewelry," "Paris," "bodyguard" and "bound" in her presence.
OK, you can say "bound," but only if you're referring to the work of genius that is "Bound 2." (Uh huh, honey.)
In honor of Kimmy turning 36 on Friday (cue airhorns), her BFF (like, literally the best friend forever and ever) Allison decided to share some throwback pics from Keeky's Sweet 16 on KimKardashianWest.com.
In case you don't have a tome titled "The Complete Unabridged History of The Kardashians" volume one through 13, Kim received a beautiful white BMW from her father Robert Kardashian (pictured above), who was also there at the time.
She also posted another photo, which has these two besties totally freaking out about her gift.
Along with these two precious photos that deserve to be in the Smithsonian, Allison also wrote a long note.
Here's an excerpt of what she had to say,
It's hard to believe that 20 years ago, Kim and I were turning 16 and learning how to drive. I remember Kim's Sweet 16 so well. Aunt Kris and Uncle Robert hosted a really nice lunch for Kim with all of her friends and family at a popular Italian restaurant called Cicada. We would all do our Sweet 16s at Cicada! How cool that Kim is wearing a vintage slip dress, LOL! Kim was always a tad bit younger than us, with her birthday being in October, so we were all ready for her to turn 16 so we didn't have to drive her everywhere anymore!
Can you believe it's been 20 years since Kim's famous Sweet 16?
I can't believe it's been 20 years since I HAVEN'T BEEN INVITED TO ANY PARTY THAT HAD KIM KARDASHIAN PRESENT.
Citations: Kim Kardashian's pal takes over her website to post old photos of the star receiving a BMW from late father Robert for her 16th birthday (DailyMail.com)